---


HOME TRAVEL LOG MOUNTAIN BIKING WINDSURFING STORY ARCHIVES RV INFO PHOTOS CONTACT US
---
(click on photos to enlarge)
---
"Long Beach Blues Festival"
Long Beach, CA
September 4, 2004
Story by Carey [Debbie's comments in italics]
Always on the lookout for things to do, and knowing my fondness for the blues, Debbie had spotted an ad in the paper for the Long Beach Blues Festival to be held over Labor Day weekend. I was uncharacteristically caught up with work, so we made the 65-mile trip across town (in gloriously air-conditioned comfort!) for Saturday's half of the festival.
This was KJAZZ radio's 25th year of putting on this event, and was held on the Cal State Long Beach Athletic Field. That sounds like an uninspiring place for a concert, especially in comparison to the touristy, shoreline part of town where the Long Beach Grand Prix is held, but it's actually a great venue, with a cool pyramid looming over it, well-trimmed grass to writhe upon, and even some handy shade trees around the perimeter. There were tons of blues vendors selling all manner of blues collectables. I ended up scoring about a dozen shiny new CDs myself.
One of the featured vendors was Dick Waterman, who is the most renowned blues photographer in the world and has a new book out. The emcee kept plugging the book during the breaks, and later, I caught him shaking hands with Dick, who undoubtedly appreciated the promotion. In a clear labor of love, this most famous blues photographer in the world mans his own festival tent, selling books and photos direct to the public. Pretty cool.
For lunch, we sat in the shade and shared a scrumptious, heaping, bowl of Louisiana-style jambalaya, brimming with crawfish and shrimp. Yummo!
After lunch we went to check out the adjoining fenced-in baseball field, and were surprised to find the gate cracked open. Debbie snuck through and quickly located a souvenir baseball under the stands, and proceeded to play a little catch by herself with it in the Dirtbags' dugout. Yes, the Long Beach team is semi-officially called the Dirtbags, a somewhat obscure reference to their official gold rush era nickname, the 49ers. Curiously, their uniforms show neither of those, instead displaying "BEACH" in large, friendly letters.
Lurking in the Dirtbag dugout was their good luck charm, an evil, one-eyed owl that we had seen in action during their games on TV. When needed, the Dirtbags direct the feathered demon's gaze toward the opposing team to project bad vibes (or somesuch). Looking back, since Long Beach is one of the perennial national powers in college baseball and erstwhile rivals of our own UT Longhorns, we should have snatched their monocular mascot while we had the chance. That's the tradition, right? Instead, we just posed under the creature's watchful, single eye for a photo.
[Carey didn't mention how confused we were about the field. This is Long Beach State, not a powerhouse but a very very good team. Their star pitcher this year won every award he came near. And they hosted a College World Series regional tournament in 2003. In this stadium?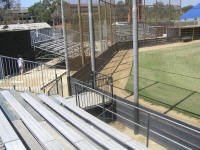 It didn't add up, but there were signs of Dirtbags everywhere, including the clippings on the bulletin board. So we just chalked it up to one of those things, probably a Southern California thing. However, I later realized that this is where they actually play, and we were probably looking at their practice field. Pretty nice practice field.]
By now, you're probably wondering if there was any music at this thing. The following photos thereof would undoubtedly make Dick Waterman spin in his grave if he weren't alive and selling books across the meadow, but between my 10x zoom lens and liberal aiming at the jumbotron screens, I managed to capture some pretty decent images of the performers doing their thing, even from well back in the crowd.
The first set featured California-based harmonica player Rod Piazza, sporting a classic lime green leisure suit, accompanied by his band The Mighty Flyers.
Rod was joined partway through his set by my #1 blues hero, James Cotton. James has led a classic blues life, leaving home in Mississippi as a 9 year old kid after his parents died and was more-or-less adopted by Sonny Boy Williamson. Young James mastered the harp by hanging around Sonny Boy, and by age 15 was cutting his first recordings. A few years later James got his big break, taking over for Little Walter in the Muddy Waters band and moving to Chicago. After a dozen years with Muddy, he struck out on his own and became an international legend in his own right, earning the moniker Superharp. Today, after about 50 years of playing the blues, he's raking in Grammy and Handy awards by the bushel and churning out bestselling albums one after another. Unfortunately, he's had some throat problems and no longer sings, but he still blows the harp like nobody's business and oozes charisma on stage, even as others handle the vocals.
Rod Piazza is a plenty talented harp player himself, and the featured performer in his band, so I was surprised that his harp seemed to be mic'ed relatively quietly during his set and his solos had been a little lost in the overall mix. I mentioned that to Debbie, saying something to the effect of "James Cotton ain't gonna put up with that when he plays." Sure enough, James had barely sat his rotund self down and started to play when he started signalling for more volume. Thankfully, the sound guy understood, and James' harp was quickly boosted so we could really hear the man strut his stuff.
I managed to capture a little 4 minute video clip of Cotton playing his rollicking signature instrumental tune "The Creeper" by setting my, ahem, "still camera" atop one of the speaker scaffolds. My new camera features a recording mode that captures 640x480 video at 30fps, while compressing it on-the-fly to MPEG4, so you can actually record 30 minutes or so of pretty good quality video with the thing. Sure beats the low-res 15-second clips of its predecessor.
Next up was Jimmy Dawkins with Billy Boy Arnold, in a pairing of classic Chicago practitioners of guitar and harp, respectively.
After that, Jimmie Vaughan and Lou Ann Barton joined together to ably represent Austin and the modern Texas Blues blues sound. I was happy to see that Jimmie looked more lively than the last time I'd seen him, and Lou Ann looked and sounded remarkably good too.
Surprisingly, the next artist, Macy Gray, turned out to be the crowd favorite of the afternoon. I say surprising, because she's not really a blues performer, but a sort-of soul pop star with plenty of hair. The performance was crowd pleasing, for sure, but I can't help but think maybe a blues-rock band would be a better fit, assuming they need to feature somebody contemporary for commercial viability. That said, I probably wouldn't have known of Macy Gray otherwise, so I'm not complaining too much.
Bo Diddley was originally supposed to be Saturday's headliner and finalize the day, but he's apparently suffering health problems and was unable to attend. In his place, they got The Original Blasters, a California band who have reunited after about 20 years. These guys gave it their all onstage, pumping out fast-paced, rootsy, bluesy rock-n-roll. But much of the crowd, hot and tired after Macy Gray's performance, was preoccupied with packing up their gear and heading for the exits. So the grand finale to the day ended up a little flatter than it might, although we found one guy playing some really wicked air guitar in the audience [see below].
For flavor, here's a couple of amusing reviews from someone calling himself the World's Greatest Critic, one regarding last year's festival, and the other about this year's action on Sunday, which featured Buddy Guy as headliner:
http://www.worldsgreatestcritic.com/longbeachbluesfest2k4.html#title
http://www.worldsgreatestcritic.com/longbeachbluesfest2k3.html#title
Something like 10,000 people attended this thing, many of them not white (which came as a pleasant surprise to me at a modern-day blues show). Here's a sampling of the throngs in action:
[Those guys in the print shirts (second row of photos) were fabulous, bookending the day with memorable morning and afternoon performances. The one in the blue shirt did a gleeful and stylish dance all over the place for an entire set, and I caught glimpses of him at other times of the day. It was hard to watch the musicians with him around. I guess knowing that, the guy in the floweredy shirt played the most proficient and soulful air guitar I've ever laid eyes on. He jammed for almost an entire set, the last one of the day, no less, until his companion pulled the plug on his amp and made him leave. I was sad to see such a serious practitioner of the craft go.]
Long Beach has some kind of noise curfew that kicks in at 6:30, which, along with the closing of beer stands an hour or so early, ensured a tidy end to festival day. So we were out of there early enough to have plenty of daylight left to digest a couple of chiliburgers from an Original Tommy's a couple miles up the road. This was a real treat, because the only Tommy's even close to us in Thousand Oaks is one of the "fake" ones. As they say, if you don't see the shack, take it back!
---
HOME TRAVEL LOG MOUNTAIN BIKING WINDSURFING STORY ARCHIVES RV INFO PHOTOS CONTACT US
---