---


HOME TRAVEL LOG MOUNTAIN BIKING WINDSURFING STORY ARCHIVES RV INFO PHOTOS CONTACT US
---
(click on photos to enlarge)
---
"Various Outings around LA"
Los Angeles, Santa Barbara, Long Beach, Hollywood, etc.
June 26 through September 9, 2004
Story by Debbie
First, the obligatory celebrity sighting. There's a Target located a parking lot away from our personal food court. I was in there one day and heard some idiot screaming into his cell phone. I headed toward the sound in order to issue a hairy eyeball to the cretin, and it was no ordinary cretin, it was Olympic figure skating champion Scott Hamilton. Wearing a headset and discussing his private life for all to hear. He's as short and bald as you'd expect, and his legs are pretty cute. To confirm, I checked him out on the internet and found that he lives nearby (near the Simulator Center, actually) and information on him matched the personal stuff he was sharing with all of us Targeteers. So that was my brush with celebrity while in Los Angeles. Well, that and one night we were driving down Melrose Avenue and saw a bunch of lights on a corner, and Jay Leno was talking to people for his show, I assume.
Carey and I went downtown one weekend for some tourist activities, which included riding the subway, since he hadn't done it yet. A highlight is the Hollywood & Vine station, dedicated to the moving pictures, which features a real movie projector and film reels adorning the ceiling.
We went to the Los Angeles Museum of Contemporary Art.
As befits Los Angeles, it was almost impossible to find on foot, and ascending from a subway station doesn't help matters. We ended up walking through a really scuzzy area, where a grizzled guy in a wheelchair was having a hell of a row with his keeper--the wheelchair fellow "ran" away, across a busy street against the light. Then we went up an enormous hill, and then we went through some underground garage tunnel things, and then we found the back of the museum. Seems like a lot of work for some modern art, which your kid could do.
The whole place was devoted to a show called, "A Minimal Future? Art As Object 1958-1968." So you say you don't understand minimalism? Pshaw! Just consider this, from the exhibition program: "Many artists rejected composition, illusion, anthropomorphism, and associative references in favor of concerns of gestalt, perception, phenomenology, and immanence." Simple.
A highlight of our visit was a piece by Ronald Bladen called, "Three Elements." We were looking it over and Carey said, "Wait a minute--when was this done?" I looked at the description and said, "1965." He exclaimed, "I don't think they had bugle head screws in 1965," pointing out a row of the distinctive, ultra sharp tipped drywall screws in the plywood. Now you know why I bring him to places like this.
The museum is right near the Walt Disney Concert Hall, yet another Frank Gehry pile of metal posing as architecture. I don't know if I'll like it in 50 years, but I like it now.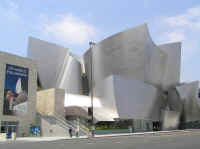 Carey, inspired by our art outing, took the following photo. Note the juxtaposition of elements of deconstruction and demolition, creating a dialogue examining the nature of form in everyday life, and the use of shades of gray in the building, street, and SUV to illustrate the relative importance of and didactic tension between shelter and transport.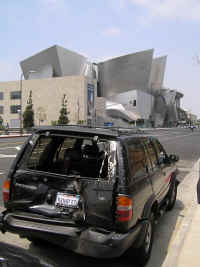 (This reminds me of what I think may be the funniest thing on the internet--Dick Price's Photo ID Gallery. Talk about a misuse of a college education.)
We walked from to museum to meet my friend Lisa for lunch at Philippe's, home of the French dip sandwich. None of this namby pamby cup of au jus on the side, they dip the whole roll in a vat of juice. Mmmmmmm. After that, a stroll through Olvera Street, which is (more or less) on the site of the original settlement of Los Angeles. That was done by the Spanish, but the area has taken on more of a Mexican border town market feel. I scored some of the Mexican candy I like, and a cup of horchata. Azucar es mi amigo.
Back to the subway. As we approached the platform, we saw a train waiting and made a mad dash into the last car. Whew! But then it sat there for a few minutes, which we thought was a little odd, and then I started noticing that the car was really really crowded. People crammed in there tight. Then the train started moving and everybody started cheering. Okay, this can't be normal.
Turned out, that car had been sitting at that platform for an hour because someone had committed suicide a couple of stations downstream. They had closed that station, and weren't letting any trains through it until they cleaned up all the blood. When we did go through that station, a hush fell over the car as everyone examined all the police tape. Then everyone resumed excitedly discussion the various theories about what had happened and their one-hour confinement in a subway car.
On another occasion, I took a solo road trip up the coast a little, to Santa Barbara. On the way, I stopped by the place where we'd learned to surf last year. As always, there were a ton of people out there surfing, and some people who could actually boogie board quite well.
This lady was painting near the campus of the University of California, Santa Barbara, which overlooks the ocean.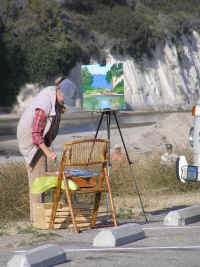 Okay, so there might have been a movie I'd been wanting to see for a long time showing on campus the very night I'd chosen to make this little trip--a complete coincidence.
Another outing was when I joined up with my friend Lisa once again, this time for a tour of the Queen Mary. My dad was on it when they used it to transport troops during World War II, but all I remember of his recounting of his experience was that he said they ate mutton all the time, "not lamb, but greasy old mutton," and there was vomit cascading down the stairways. I can see why it's such a popular tourist attraction.
The ship is pretty amazing, as you'd expect. It cleaned up nice. There's gorgeous woodwork everywhere, roomy staterooms (which have been converted into a hotel), and very nice art deco appointments.
I'll be the first to admit that I take lousy photos, but the good news is that I don't take many. The only documentation of the Queen Mary tour is a photo of a girl who was smoking in her hotel room, and a photo of the cigarette butt she flicked onto the ocean.
My lack of photographic zeal was probably a good thing, because some of the sights were a little disheartening. The Queen Mary does a brisk wedding business, and we were there on a Saturday. You know how weddings are, there's always a chubby bridesmaid who doesn't really look all that good in the dresss. Well, at least that's how it was back in my day. Now, you have chubby bridesmaids with tattoos all over them, and the less said about that the better.
Lisa and I did take the hokey "ghosts" tour, because it was the only way to get to see one of the inside swimming pools (Lisa was on the San Angelo Central High School swim team, while I stayed dry as the team manager, feeding my love of looking at swimming pools but not actually getting in them). The pool was well worth the visit. We also went into the very bottom of the ship, at the very front. They had spooky lighting and fog and stuff, but the scariest thing was looking up up up and realizing I was way way down, far below the surface of the ocean, with all this metal on top of me. The only thing that prevented a full-on panic attack was sheer will.
On the movie theater front, I went to the theater at the Academy of Motion Pictures Arts and Sciences, the Academy Award people. I generally pay little or no attention to the Oscars, but I wanted to see what they thought appropriate presentation was, and they made a believer out of me. Gigantic screen, flanked by two huge Oscar statues that somehow didn't reflect light during the movie. For a half hour before the movie, they dim the lights somewhat and show shorts--that night, we saw "Tit for Tat" with Laurel & Hardy and "Pirate Party on Catalina Isle," which is sort of a home movie of a bunch of movie stars. (You know, the internet is a wonderful thing. I didn't like the Laurel & Hardy short because they just started wrecking this guy's store for no reason, and the guy started retaliating and the escalation began. I even told Carey I thought it was a bit senseless. Then when looking for interesting hyperlinks for the website, I found out that this was actually a sequel, that they'd had a previous fight with this guy and picked up where they left off. But I didn't know that and I'm not sure I would enjoy the fighting any more now that I do, but at least it makes a little more sense now.)
The feature was "The Lives of a Bengal Lancer" with Gary Cooper, who is one of my favorites but he had a pretty unfortunate moustache in this one. The guy who introduced the movie admonished people not to talk or rattle candy wrappers. The lights were turned off, and the flawless presentation began. My kind of place.
Carey and I also saw a couple of movies at the Arclight, a multiplex that takes presentation seriously. The Cinerama Dome is part of the complex (we saw one of the Lord of the Rings movies there during our last Los Angeles stay), but they also built a bunch of theaters from scratch. I've read knocks on the theaters because they're just black boxes, which just goes to show there are idiots everywhere.
They have reserved seating, which I don't like (I practice defensive seating at movies), but since there's never more than 10 people at movies I go to, it wouldn't matter except the seat numbers are on an extension at the top of the seatback. That makes the seatbacks extra high, and I can't see over the row in front of me if I slouch way down (my preferred position). Not even in the second row. Fortunately, the first row isn't really really close, so I can sit there in relative comfort, although there's nowhere to prop my feet.
After our first trip to the Arclight (to see Riding Giants, a documentary about big wave surfing that looked really good on a big screen), we were headed for another theater to see Clint Eastwood in A Fistful of Dollars (gosh, it's hard not to love Los Angeles) and stopped for a couple of chili dogs at Pink's, where the line moved with amazing slowness, and we had a movie to get to. Plus, you can watch the people ordering and the people putting together the order, making the experience even more agonizing.
And we got a parking ticket while enjoying the chili dogs because most of Los Angeles (the popular parts, anyway) has byzantine parking rules that take a while to get a feel for. I finally got used to having parking on a public street be prohibited after 4:00 except for residents, something I wasn't familiar with. Evidently these people don't want interlopers parking on THEIR street. Pretty selfish if you ask me--we I just wanted to get a quick bite to eat and it was rush hour so there was no parking on the major streets.
A final dining note, and saving the best for last--Roscoe's Chicken and Waffles. It was a short walk from the Arclight theater, after seeing Hero. We planned this, actually, wanting to see the movie on a good screen and wanting to try the chicken and waffles. What a great day.
I can't begin to tell you how good the chicken is at Roscoe's; it seems like it's fried in an old skillet rather than deep fried. And pairing it with tasty waffles is a surprisingly good idea. We also had cornbread and some sides--delicious macaroni and cheese, and greens. Yes, greens. I usually recoil at the very sight of them, but I tried these and they were actually not bad. I don't know what made them good, but I do know they weren't just a gloppy mess of slimy looking green stuff. I ate quite a bit of them, to my amazement. We were sad that we didn't find this place until late into our stay, but our cholesterol levels are probably better off because of it.
And one final tip: It is quite clear that it is very important to Los Angelenos that they fit in. There are obvious ways of doing that, of course--plastic surgery, fancy cars, flashy jewelry. But a less obvious way to be just like everybody else is found in the all important driving arena, on freeways in particular. One word: BRAKE.
I have never seen such a conglomeration of brake-happy fools in my entire life. It's as if nobody understands the concept of anticipation, or of lifting. If you're not accelerating, then by gum you need to be braking. People, this is not Formula 1--it's acceptable to simply coast a bit.
This is the only place I've ever seen people brake while going uphill. It happens because the appropriate reaction when you see someone entering the freeway, even if he's several lanes over, is to brake. It matters not whether you need to slow down or anything. You need to brake.
Approaching a place where traffic sometimes slows down? Brake!
Coming over the top of a rise? Brake!
See someone changing lanes? Brake!
See a brake light or turn signal in the distance? Brake!
Waking up from a daydream? Brake!
Just feeling a little insecure? Brake!
You can never be too sure about what's about to happen, so it's best to slam on the brakes in anticipation. Safety first, you know. And practice makes perfect, so by all means overbrake even when the closest car (me) is a quarter of a mile behind you.
I spent a lot of time on the freeway and kept myself amused by seeing if I could avoid braking while others in my midst played footsie with that second pedal from the right. I realize this sort of thing isn't for everybody because it requires you to actually pay attention to what's going on around you and it will forever mark you as an outsider. That's okay with me, but if you'd prefer to look like more of a native, then heed my braking tips and nobody will have any clue you're a tourist.
---
HOME TRAVEL LOG MOUNTAIN BIKING WINDSURFING STORY ARCHIVES RV INFO PHOTOS CONTACT US
---