---


HOME TRAVEL LOG MOUNTAIN BIKING WINDSURFING STORY ARCHIVES RV INFO PHOTOS CONTACT US
---
(click on photos to enlarge)
---
"Summertime at our West Coast Base "
Thousand Oaks, CA
June 26 through September 9, 2004
Story by Carey [Debbie's comments in italics]
We spent most of the summer in southern California, specifically, at the Road Safety office/RV park in Thousand Oaks, which has become almost as much of a home base for us at the Digital Vehicles office/RV park in Austin. We spent almost two months here in the winter, and remarkably, the place is not all that much different in the summer, except for a few weeks in August when it finally got hot enough to need to run the A/C.
I was here to write and test a bunch of new software to support the first of a planned nationwide network of Road Safety Simulator Centers. The first center is separate from the main office where we camped the motorhome, about a 10 minute drive down the 101 freeway to Westlake Village, in a fairly upscale retail/office complex in a fairly upscale community. We're hoping that parents there will be particularly willing to spend a few extra bucks to send their teenagers to some simulator training sessions to augment their traditional driver training.
Most days I was able to work from my office in the motorhome with the windows open to let in the cool breeze, and just "commute" across the parking lot whenever I needed to test something on a real simulator. But several times a week, I needed to go over to the simulator center itself, which presented a minor problem since Debbie and I only have only have one car to share. Luckily, the owner of Road Safety graciously offered me the use of his Corvette for days when Debbie needed to take my car into town, which worked out splendidly.
Here's the simulator center, with the mighty Corvette shuttle-car parked out front:
And here's our "campsite" at the main office, complete with really well-kept landscaping and lovely, blooming flowers: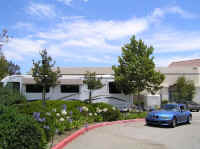 And here's some computer-generated aerial views of our site, courtesy of the very cool Keyhole imaging software:
When we were here in the winter, there was a small earthquake nearby, a Hitchcock-esque bird attack, and some horrific mudslides. This time, we got to experience another classic form of California devastation -- fire.
There were several huge wildfires burning up millions (billions?) of dollars worth of homes around the LA area for weeks on end, and we'd occasionally see helicopters or planes going overhead after scooping up water from the ocean and heading inland to dump it on a fire somewhere (the ocean is just about 10 miles away from us), but mostly we just watched the action on TV.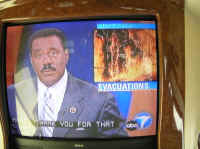 Until one afternoon when the power suddenly went off. Assuming we were just experiencing one of the infamous " rolling blackouts" that are known to happen around the area, I got up to go see if the main office was powered or not. When I stepped outside, I noticed a large plume of ugly black smoke rising from the hill just above us. I climbed atop the motorhome for a better look, and sure enough, there were flames on yonder hillside!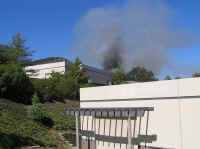 The office was indeed also without power, so some of the gang came outside to watch the action. Here's a group shot of some of the slackers: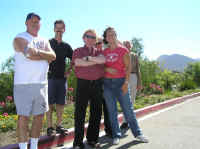 After a while, one of those helpful helicopters showed up, and made several dramatic, swooping passes over the fire, dumping some kind of extinguishant on the blaze. I'm not sure why this guy was flying the copter as dramatically as he was, doing Airwolf-like banks and steep climbs, since it seems like one of the key advantages of a helicopter would be its ability to just hover over the fire and drop, but perhaps the smoke would have been a problem. Anyway, it was a good show, and within about 45 minutes they had the fire out.
The power remained off for quite a while though, as what had been burning turned out to be some overhead electrical lines. A few days later we hiked over to the area and admired the charred ground and power poles. Speaking of hiking, several times a week (day?) we'd stroll down the hill about half a mile to the outdoor food court. This place includes:
- Baja Fresh, featuring California-style "healthy" mexican cuisine that's not bad, but not fully delicious either. Watch out for belligerent customers who fly into a rage when it's pointed out that they jumped the line by going directly to the "call in" window, even though they clearly just walked in off the street (with no shoes on, even). [It was not me who called him on it, although I went over to the chick who did and told her she did the right thing--the guy yelled at her something awful and I felt sorry for her.]
- Subway, whose "healthy" sandwiches include a semi-delicious submarine, brimming with meatballs, cheese, and peppers.
- Daphne's, a Greek place featuring "zesta" style Gyros that are quite delicious.
- Fan Ting, with California-style "healthy" Chinese dishes, highlighted by the "Dan Dan Noodle Bowl" which is remarkably delicious.
- Jamba Juice, which seems to purvey some presumably California-style "healthy" beverage, about whose deliciousness I cannot comment.
- The Habit, which I accidentally dubbed Habitat for Hamburgers, which fit like white on rice. This place makes a super-delicious bacon-cheese-jalapeno-burger-with-mustard once you figure out how to special order it. [The burgers are charcoal grilled, and like most places out here, they use mayonnaise instead of mustard. Their fries are also quite good--big enough to maintain some potato-ness yet still crispy.]
- Coldstone Creamery, one of those places that mashes delicious morsels like M&M's and marshmallows up in ice cream for a chilly combination desert
- El Pollo Loco, which is actually across the street from the others, but is nonetheless on our unofficial walking/dining circuit. A notable dish here is the "healthy" chicken quesadilla with spicy avocado salsa. Muy delicioso, but a tad puny. [We ate at a place in Tucson called Pollo Feliz, and I remember thinking, "I bet that pollo isn't all that feliz."]
It's a good thing it's an uphill hike after each meal, eh?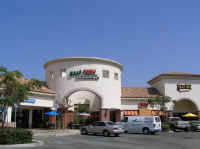 We also discovered another old/new dining favorite, reachable only by car. The Corner Bakeryis a sort-of fancy sandwich shop that we originally encountered in downtown Chicago, their hometown. We were delighted to discover a branch in Thousand Oaks, near the simulator center. Seriously delicious specialties include the D.C. Chicken Salad on Steakhouse Rye and the Southwest Roast Beef on Poblano Cheese (actually, since they're almost always out of that, probably white bread, which is okay because Debbie favors the white bread anyway).
Another old standby is Pizza Hut, featuring Pan Pizza that literally oozes "healthy" grease from its thick, delicious crust. This normally unremarkable chain establishment earns a special mention here for one reason: the local location is the first one I've seen that accepts orders placed over the internet. That feature is "coming soon" everywhere else I've tried it, but the future is now in southern California apparently. So, from the desk in my motorhome, I could beam an order for pizzas via the satellite, select appropriate local coupons, and about 15-minutes later, have hot pizzas ready to eat, without even having to dial the phone. Pretty cool.
Quite possibly the best food of the trip came on the Fourth of July, when we were invited over to the home of Larry and Sandy Selditz for some homemade BBQ and fireworks viewing. Larry churned out some perfect pulled pork, served Carolina-style on a bun with coleslaw. Ultra delicious!
[We haven't become more formal recently, although you might think that from Carey's use of "the home of Larry and Sandy Selditz." The problem is that to say it regular, you have to first make it plural, which is Selditzes. (Actually, outside of their hearing I called them the Seldices.) And then to make the plural possessive, you come up with either Selditzes' or Selditzes's. Neither works very well at all, so we punted. This isue is a frequent irritation to hobbyist grammarians who live in RV parks, however. People often put little signs in front of their RV with their names on it, and 9.5 times out of 10, they do it wrong. The Smith's. The Jones. It drives me insane.]
Other activities around our homestead included wildlife viewing. Our favorite critter was a roadrunner, who would run down the hillside in front of us and sometimes walk across the brick wall, thereby passing right across our big windshield. This we dubbed the "Roadrunner Viewing Area" because it worked somewhat like an aquarium. Debbie even tried to lure the beast there more frequently with some Cheetos (suggested by me as a foodstuff a roadrunner might find delicious), but somehow, that experiment just didn't really seem to work out.
Some rather festive-looking blue birds dropped by sometimes for a little color: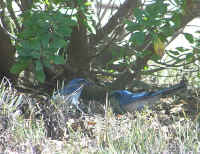 And there were all too many of these burly snails around: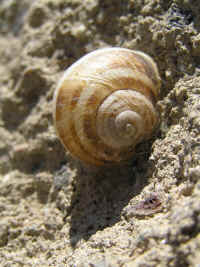 One day late in the summer we came home and smelled what seemed like a classic "dead animal" smell. [And Carey would know--he once had a maggot infested rat fall on his head when he opened the stairway hatch to his attic.] After some investigation that revealed nothing, we opened a few windows and strategically set the reversible roof fans to bring in fresh air. After a couple of days of this, the smell gradually intensified, and eventually we concluded it had a "fishy" odor to it. A few more days passed, when one day Debbie hit upon the answer -- rotting escargot! Oh my, it seems that we'd been immobile there long enough some of those little devils had managed to slither up into the motorhome undercarriage somehow and croak. Never found more than a few, but luckily they're pretty small and must dry out quickly, because the smell went away fully after about a week.
As for non-wildlife viewing opportunities, we had the morning Post Office parade/speed trial to watch. There's a big postal sorting facility at the top of the hill we're on, and the trucks start flying down the road every weekday morning at 10:30, like clockwork. Some of them seem to enjoy getting airborne as they go over the crest, while others seem intent on setting a new official postal land speed record by remaining on the ground.
Another neighboring business called Tainted International produces a product line called "Wide Open Clothing," which apparently is all the rage with some demographic group, due to a rather lame logo featuring a couple of awkwardly posed silhouetted ladies. Below is a picture of their truck with the "big fire" in the background to give you an idea. They also advertised their wares by planting a bandit stake sign near the sidewalk along the main road / postal land speed record course. Mysteriously, the sign disappeared after a few days. [I did NOT take it!]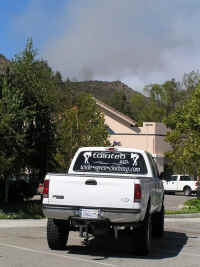 We also took advantage of being parked here for an extended time to do some upgrades and maintenance on the motorhome. Tasks included removing the microwave and installing a remote-control lever thing designed and sold by an enterprising Alfa owner that lets us latch the exhaust vent closed from inside instead of climbing a ladder outside. Debbie purchased a vast assortment of shelves and storage bins, and eventually arrived at a great new setup for keeping everything neatly organized in the closet. [Notice that I use less than half of the closet--the bIack jacket next to the teal jacket marks the end of my section. Carey the Clotheshorse has the rest.] I finished the big "slideout rewiring project" I started at Noah's in May, by relocating the relays out near the motor, and running some heavy-gauge wires directly to them from the batteries. Now that thing really flies! Debbie also undertook the chore of cleaning and treating the rubber roof, which is always an exciting job.
The last big chore of the summer was one that I've been putting off since last November when the A/C in my car died on us in Tucson. I had eventually diagnosed the problem as a bad evaporator, which requires much of the interior of the car to be disassembled, which is naturally something to be put off as long as possible. [Easy to say if you're not the one in stop and go traffic on the freeway in the San Fernando Valley, where temperatures often exceed 100 degrees.]
But, I finally got the simulator software going well enough that I didn't have to work every weekend, so I took advantage of Road Safety's garage and tore into it. The whole process took about a month working a few hours here and there, but finally, just as the summer heat was ending, I got it all back together and working again. Super nice to have A/C again!
Debbie got away from the Road Safety parking lot quite a bit during the summer to enjoy the Los Angeles scene, and I managed a much smaller number of outings. We'll tell you about a few of those next.
---
HOME TRAVEL LOG MOUNTAIN BIKING WINDSURFING STORY ARCHIVES RV INFO PHOTOS CONTACT US
---