---


HOME TRAVEL LOG MOUNTAIN BIKING WINDSURFING STORY ARCHIVES RV INFO PHOTOS CONTACT US
---
(click on photos to enlarge)
---
"Kajun Kamping in Louisiana"
Austin, TX >> New Orleans, LA >> Lafayette, LA >> Austin, TX
March 11 through April 6, 2004
Story by Carey
Road Safety needed to move their just-completed simulator to New Orleans for another Driving School Association of the Americas conference (similar to the one in Tucson in November), then immediately after that, on to Lafayette for a research study lasting a few days.
They were considering shipping it via commercial carrier, but I figured it would probably be good for me to personally babysit the brand-new machine at these two debut events anyway, so I decided to just rent a U-Haul trailer for the simulator and pull it behind the motorhome to Louisiana via the notoriously bumpy I-10. That way I'd have my full mobile office, tools, spares, etc. with me to easily troubleshoot and/or tweak things on site as needed without even having to pack. And being in Louisiana, I could stop off and visit some relatives along the way too.
Great plan, but with one little snag. The conference was being held at The Inn on Bourbon Street, smack-dab in the middle of the French Quarter, whose narrow streets were laid out almost 300 years ago, way back when RV's were the size of covered wagons (because, well, they were covered wagons).
Conventional wisdom says that one should not even consider driving an RV into the French Quarter. New Orleans city law requires you to have a so-called "bus permit" to even enter the French Quarter in a vehicle over 31 feet long. But for some reason, I thought navigating a 102" wide, 40-foot long, 30,000 pound motorhome with a 12-foot long U-Haul trailer on its tail through a seemingly inescapable maze of skinny one-way streets teeming with strolling drunks sounded like fun.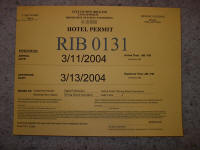 Debbie however had visions of the whole contraption getting stuck in there and having to be airlifted out by helicopter or something, so she decided she'd just pack a little suitcase and drive herself up to Dallas by car and stay in a hotel for a few days of pre-RV style vacation. Smart cookie, eh?
Anyway, thanks to a heroic effort by the hotel staff, who managed to get a bus permit from the city in 3 days instead of the 30 normally required, my plan was soon set in motion and I was "going in." Naturally, after about a 9-hour drive from Austin, I arrived right at rush hour in New Orleans, which just added to the fun.
I had researched and planned my route in very carefully though, much like the Star Wars Rebels had planned their attack on the Death Star, so the actual trip through the Quarter went quite smoothly. I just had to go slow, and keep my eyes constantly scanning not only out the windshield but the four mirrors as well to help gauge clearances, and make sure I didn't pinch any drunk toes under the trailer.
Here's the approach down Toulouse Street: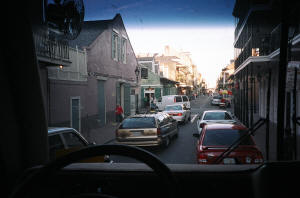 And here's the motorhome and trailer parked along the curb amongst the cars, completely oblivious pedestrians, and horse-drawn carriages that compete for precious square-footage on these streets.
Crossing Bourbon Street was probably the most fun, as the throngs there just wander back and forth with no regard for vehicle traffic. Cars have enough trouble getting across, often getting yelled at or slapped on the fenders for daring to get in people's way, but I was pleasantly surprised to be mostly greeted by thumbs-ups and whoops of delight rather than violent overthrow when my turn to try and cross came.
After dropping off the simulator, I made my way out to a KOA Kampground about 10 miles west of downtown, where after about an hour at the desk, I finally got checked into space #79-1/2, which the staff knew about but their computer apparently didn't. Of course, during that epic ordeal with the KOA Komputer, the sun had set, so I got to back the rig into the special campsite wedged between a real campsite and the bathrooms in the dark. Nice work, KOA. At least they didn't Keep On Adding as is their trademark, and charge me extra for the privilege of staying in a half-site!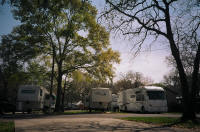 This KOA was actually pretty nice, and in a relatively safe part of town -- there are a few other RV parks a little closer to downtown, but they are on the dreaded Chef Mentour highway, and are not very well reviewed, to say the least. And this KOA did have a shuttle service into downtown in the mornings, which was nice since I didn't have a car. It turned out that this shuttle service was actually a mini-bus-tour of New Orleans, and we leisurely cruised down the levee and down St. Charles street, and finally into the French Quarter, enjoying a pretty good live narration along the way.
The conference went well, and on Saturday I returned to pick up the simulator from the hotel. I stopped off near the Superdome and heated up some tamales for lunch, and waited for the Road Safety guys to call and say they had the simulator ready to pick up before plunging back into the French Quarter.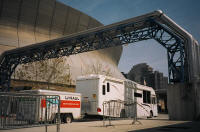 I got the call that they were wheeling the simulator out the door, so I again made my way down my carefully planned route, but unfortunately when I arrived at the hotel, a big motorcycle and a small green car had parked themselves in the loading zone, and their drivers were nowhere to be found.
Drat. So with nowhere to park, I had to just keep on going on through the 'quarter and out again, and set up to make yet another pass through the throngs. I was getting a little more practice at this than I wanted, frankly, but about 15 minutes later I had made my way through the weekend traffic and back to the loading zone, which by then was clear of other vehicles and we were able to load the simulator.
To get back to the KOA from the hotel the night before, I had borrowed one of Road Safety's rental cars, so Jeff from Road Safety was going to ride back with me and retrieve it on my way out of town. That should have been easy enough, as the KOA is only a few minutes off the Interstate. Except that unknown to me, this was the final weekend of a big construction project in downtown New Orleans, and they had completely closed the westbound Interstate out of town. So basically we ended up battling one traffic jam after another, without detour signs to guide us, and eventually found ourselves on St. Charles street, which I knew eventually led to the KOA because the tour shuttle had gone down that the previous day into town.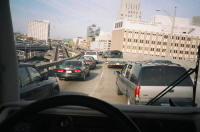 What I didn't know was that we were about to become part of the big St. Patrick's Day parade being held on St. Charles Street (those Saints all get along, I guess). The eastbound half of the St. Charles boulevard had the floats on it, but luckily for us, the westbound side was open to traffic, albeit verrry slow moving traffic, due to all the parade-watchers milling back and forth across it.
Finally, after almost two hours of non-stop precision maneuvering through absurdly tight, bustling streets, we arrived back at the KOA. Jeff promptly took off in the rental car, as he had planned to do other things that day than parade around in a motorhome. After a brief argument, the KOA guy finally opened their exit gate and let me out of the damn place. Their check out time is noon or something, and he thought I must be trying to sneak out late at 4:00. Keep On Adding indeed. Weasels.
I did manage to stop off in LaPlace for a quick visit with my Aunt Ellen and Uncle Troy, who I had hoped to spend a little more time with but the parade took care of that. Then I drove on up to Baton Rouge to visit my grandmother. Ever since we had got our "camper" Mema had been wanting me to come visit and park in her yard (somewhat underestimating the size and nature of the thing, I think). But it fit nicely along the curb, and I enjoyed a nice visit with her and my Uncle Brett and Aunt Annie too.
The next morning I drove to the National EMS Academy in Lafayette, where Road Safety had arranged for the simulator to be part of a PhD dissertation research study over the following three days. The study involved over 100 student-paramedics who were learning not only life-saving medical techniques, but being trained how to safely drive an ambulance and hopefully not kill more people than they save.
All the students eventually had to successfully complete an industry-standard maneuvering Competency Course laid out with orange cones on the parking lot of nearby Cajun Field. Half of the students received only classroom training before tackling the real-life cone course, while the other half received a session on the simulator first. We had created a virtual version of the cone course on the simulator, so the students got to practice the complex series of tight-turns and backing-up-using-only-mirrors they would later encounter on the real course.
Naturally, our hope in being involved in this study was that it would "scientifically prove" using rigorous, statistically valid methods that the students who received simulator training performed better on the real course than the ones who received only classroom training.
I dry camped (no electrical or water hookups) in the parking lot of the EMS Academy for three days, and worked like a dog fine tuning the simulator whenever people weren't using it. It all seemed to pay off though, because the preliminary analysis seemed to indicate that the simulator group was indeed doing significantly better than the non-simulator group.
Almost more interesting, however, was that there seemed to be a strong correlation between the problem areas each individual had on the simulator and the problems they had on the real course. That would show the simulator could be used not only as a training tool, but as a screening tool too, to help identify particular drivers who might most benefit from additional real-life training, or need oversight to correct bad habits or unsafe attitudes.
An interesting, though exhausting experience. I was so ready to get home from this little trip that when we got packed up around 4:00 pm in Lafayette, I decided to at least get a head start toward home, but after driving a few hours, figured I might as well just keep going, and just kept going, arriving back at DVI a little after midnight.
I expected the streets to be deserted and therefore it would be easy for me to back the moho and trailer in behind the office, but wouldn't you know it, it was St. Patrick's day (again?!?), and tons of people were buzzing up and down the street at midnight. After a couple of passes around the block, I finally found a break in traffic and managed to back the thing in, although in the pitch darkness I couldn't really see what the trailer was running over back there making the cut in from the street, and managed to run it over the curb and grass a bit. Oh well, no harm done, and I was finally home, where I continued to work for a few more weeks before we headed out for another adventure.
---
HOME TRAVEL LOG MOUNTAIN BIKING WINDSURFING STORY ARCHIVES RV INFO PHOTOS CONTACT US
---