---


HOME TRAVEL LOG MOUNTAIN BIKING WINDSURFING STORY ARCHIVES RV INFO PHOTOS CONTACT US
---
(click on photos to enlarge)
---
"Digital Vehicles RV Resort / Simulation Factory / Appliance Graveyard"
Austin, TX
January 21, 2004 through March 10, 2004
Story by Carey
One fun element of our daily routine while staying behind the office is periodically running people off who just drive up and start filling up our dumpster with hefty bags full of their household garbage. So we weren't too surprised to return after three months away and find a broken-down washer and dryer in our parking spot. Nice.
The problem was that we had no better way to get rid of such junk appliances than whoever had dumped them at our place. I was tempted to drag them over to K-EYE TV's parking lot across the street one night, kinda like passing along large metal hot potatoes, but we'd probably be the ones who got caught, instead of the original perp. So I just temporarily dragged them up onto the curb until we could figure out some way to make them disappear. Debbie has recently found someone on the internet who apparently wants such things for welding practice or somesuch, so maybe when we get back to Austin next time that nice person will come get them.
One February weekend Debbie went down to Houston to watch the UT Longhorns play baseball in a tournament at the super-deluxe Minute Maid Park (formerly Enron Field). They apparently had a choice when building that quarter-billion-dollar retractable-roof ballpark whether to install air-conditioning or heating. Naturally, for Houston, they had chosen air conditioning, which meant that when a big cold front came through that weekend, it was around 40-degrees inside the fancy, enclosed baseball stadium for all the games. Pretty strange, but it was still warmer than Austin, where it actually snowed a few inches, something that happens about once a decade. Luckily, we had made it back from sunny Los Angeles just in time to enjoy some real winter weather. Yeah, right.
Of course, the main reason for coming back to Austin was to get the shop organized and procedures all worked out for "mass producing" driver training simulators, the second of which I had gotten an order for while in California. I spent a lot of time editing CAD drawings and creating a purchasing database to manage the approximately 300 unique components from 50 different vendors that go into each simulator. I ordered enough parts to build a batch of 6 units, with the exception of expensive plasma monitors and computers, which we'll buy as needed.
I also wrote up an excruciatingly detailed, nearly 100-page Factory Assembly Manual with a mix of photos and instructions about how exactly how to put together a simulator. The idea is that once CAD drawings and reliable vendors exist for everything, I can order parts from wherever I am the road and have them delivered to the shop.
With parts available, the talented DVI Sim Krew of Don, Nathan, and George can follow the assembly manual and produce finished simulators. I assembled the first unit mostly by myself, then let the other guys put together the others. Newly armed with first-hand experience performing every step of the process, they now stand ready to build more of these in the future even if I am off somewhere in the motorhome, working at a customer site or wherever.
Borrowing some pictures from the Factory Assembly Manual, here's a taste of what goes into building a batch of simulators, over about a 6-week time period:
Painting...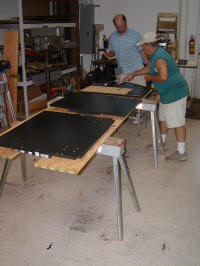 Drilling...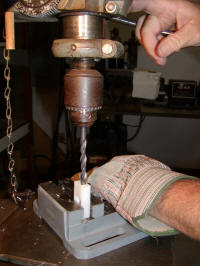 Hammering...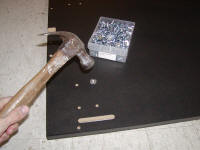 Wrenching...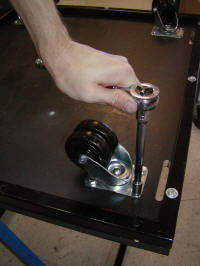 Powerdriving...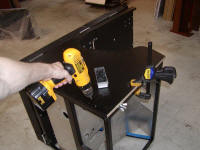 Clamping...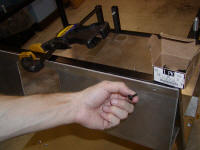 Gluing...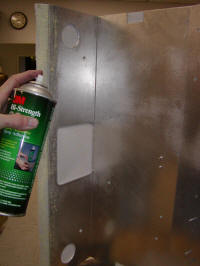 Trimming...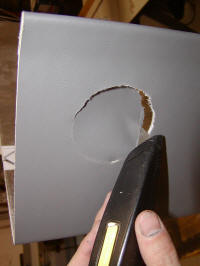 Boring...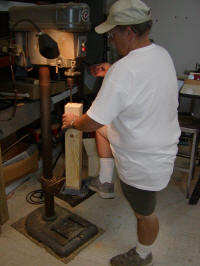 Sanding...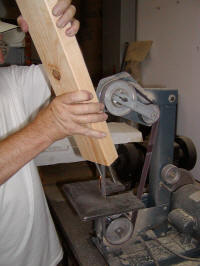 Fitting...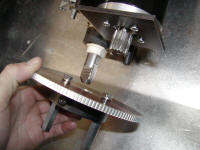 Tapping...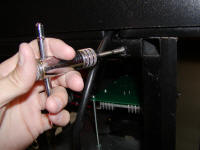 Power-tapping...
Grinding...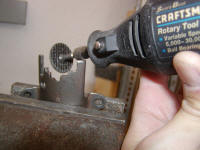 Hacksawing...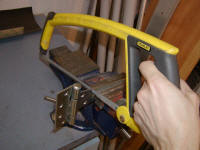 Capping...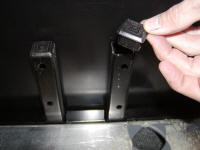 Screwdriving...
Snapping...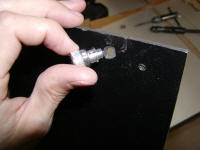 Velcro-ing...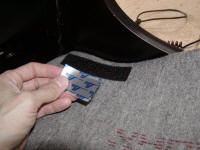 Bungee-ing...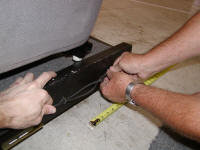 Loctite-ing...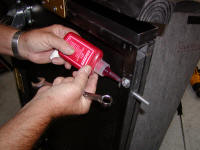 Rip-sawing...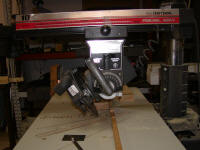 Bending...
Spray-painting...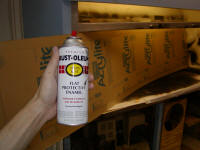 Measuring...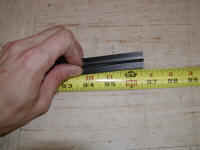 Notching...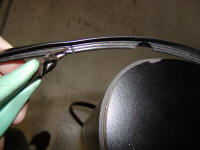 Tie-wrapping...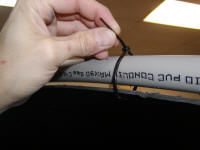 Connecting...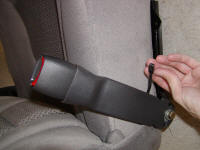 Cabling...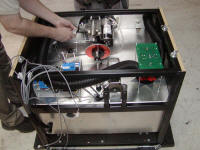 Snapping...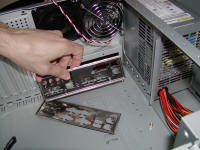 Injecting...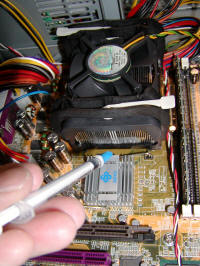 And finally Arranging the five chassis and one complete simulator for some pictures...
Of course, there's actually one more important step -- Shipping.
Which not coincidentally is the subject of the next page, where I take a simulator on a tour of Louisiana with the motorhome.
---
HOME TRAVEL LOG MOUNTAIN BIKING WINDSURFING STORY ARCHIVES RV INFO PHOTOS CONTACT US
---