---


HOME TRAVEL LOG MOUNTAIN BIKING WINDSURFING STORY ARCHIVES RV INFO PHOTOS CONTACT US
---
(click on photos to enlarge)
---
"Bye, Bye, Austin. Hello Tucson! (with a Quick Siesta in Las Cruces)"
Austin, TX >>> New Braunfels, TX >>> Las Cruces, NM >>> Tucson, AZ
November 8-9, 2003
Story by Carey [Debbie's comments in italics]
After months of preparation, we were finally all packed up and ready to go by about 10:00 Friday night. Like any proper bus, we figured we should display our next stop on a LED message board. Luckily, I had one stored in the office...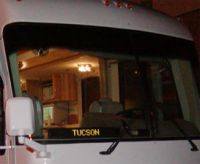 The first order of business Saturday morning was to hook up our "towed vehicle," which is known in RV circles as a "toad." The car we're dragging actually looks more like a shoe than a toad -- a 1999 BMW M-Coupe. In preparation for it becoming our only car, I added a roof rack that will allow us to haul our windsurfing gear [he claims], and had a custom towbar system fitted. When we reach a new destination, all the towing hardware can be quickly disconnected, leaving only a couple of small "rocket launchers" protruding through the car's grille. We then have a fun car to buzz around town in to get groceries, that can also be entered into any local autocrosses or track events we may encounter during our travels. [Tragically, one of my hobbies is parallel parking, and it is 100% incompatible with using someone else's car, much less a manual transmission. Precision work like that requires a precision instrument, and the blu shu just ain't it.]
This was the first time we had actually driven with the "toad" behind, so we spent a few minutes practicing in the parking lot across the street from DVI before hitting the open road. It was especially entertaining watching the little blue car doggedly tracking our every move in the rear-view backup camera. Without that camera, you'd never know the car was there -- the big ole motorhome hardly felt it.
[While Carey was practicing driving around the parking lot, I was on the floor trying to get my ghetto blaster to tape Car Talk without a bunch of static, so I couldn't see what was going on. Then I realized that we were backing up and looked up and sure enough, Carey was backing through the parking lot, constantly surveying the backup camera and the mirrors. I yelled, "Wait! We can't do that!" Carey calmly responded, "Aww, they're just a bunch of babies." An auspicious beginning.]
So with the toad successfully hitched up and feeling good, we steamed out of Austin toward San Antonio, with Debbie snapping a commemorative shot of downtown Austin from the motorhome's high vantage. Click on the photo below to enlarge it, and you can glimpse the new Frost Bank Tower that now dominates the Austin skyline. Everybody complains about not being able to read the "clock" on top, but it turns out that's because it's not a clock, but merely the Frost Bank logo. D'oh!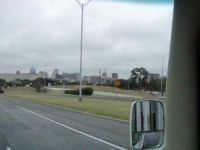 With winter coming on, our first order of business was to refill our propane tank, which had emptied itself over the summer months keeping our refrigerator cool when we weren't plugged into AC power. [Uh, this is a little revisionist history--we were plugged into AC power all along, but Carey's fancy scheme for turning a single outlet in his office into a power source for the whole RV didn't take into account that the refrigerator was running on a separate circuit.] That's one of those weird perversions of physics, whereby somehow fire becomes ice. Anyway, once again it looked like we wouldn't make it more than an hour into a big journey before hitting Camping World. Fortunately for our pocketbook, Camping World didn't have propane, so we didn't have the "opportunity" to buy a bunch of "necessary" RV supplies; the Rip Griffin truck stop just up the road filled up our 38 gallon tank, and instead of a camouflage head-lite cap, a curly water hose, or a slim line knife safe (oh wait, we already have one of those), Debbie bought Krispy Kreme donuts (don't bother with glazed unless they're hot; jelly filled will do) and Pace picante sauce, also known as the Breakfast of Champions.
Debbie and I took turns driving during the day, leisurely cruising across west Texas on I-10, finally arriving in Las Cruces. We overnighted at the Hacienda RV Park, a gleaming new facility that caters to big rigs with lots of nice, long pull thru spots and 50 Amp power. Give the little trees a few years to grow up, and this will be a downright pleasant place.
By driving all the way to Las Cruces on Saturday, we were able to shorten Sunday's trek to Tucson, and for once, we arrived and set up everything in the daylight! This sure makes things easier, and we'll be striving to make it our norm in the future.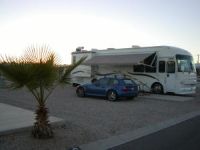 [Leaving the park in Las Cruces was eventful--I was driving and Carey said he didn't see the toad's wheels steering when we turned a corner, which is a very bad sign. So he sez pull over, and I sez where, and he sez in that big lot behind a McDonald's. Okey dokey. I drove around a bit and he checks it out and the tires are indeed turning, so I can get back on the interstate. Only the only way to get out is through the actual parking lot of McDonald's, on Sunday morning when everybody and his brother is out for breakfast and they all apparently have come in separate cars. Worse, the exit of the parking lot to the street is situated where you have to swing way wide to get out and once you get on that street, you have to make an immediate right turn onto the other street. There simply isn't room, and now I've got that @*#)%$@ car to worry about, as well (it's a disincentive for just letting those gigantic tires on the back of the RV hop curbs, and now I see why so many people tow high-clearance vehicles). I panicked, of course, but did manage to thread my way through there and into that big lot again, where I made a u-turn to get out. Ugly ugly ugly.]
---
HOME TRAVEL LOG MOUNTAIN BIKING WINDSURFING STORY ARCHIVES RV INFO PHOTOS CONTACT US
---