---


HOME TRAVEL LOG MOUNTAIN BIKING WINDSURFING STORY ARCHIVES RV INFO PHOTOS CONTACT US
---
(click on photos to enlarge)
---
"Make a Wish"
Santa Nella, CA >>> Los Angeles, CA >>> Quartzite, AZ >>> Desert Rest Area, AZ
March 7, 2003
Story by Carey
Santa Nella RV Park turned out to be pretty nice, after we could see it in daylight.
We enjoyed a picnic McBreakfast from the joint across the street, on a grassy oasis under huge trees.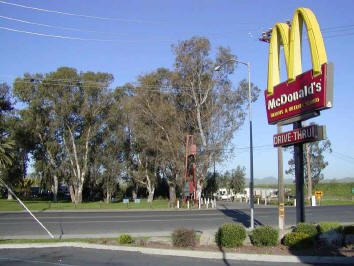 Afterwards, we broke camp and drove the rig across the street into a large, quiet motel parking lot and Debbie took the wheel for the first time. This proved to be a great venue to get familiar with maneuvering the vehicle, and before long she had the hang of when to cut the wheel to make tight turns and how to use the video backup camera to avoid crushing innocents when reversing. With the basics understood, she headed out onto Interstate 5, which at this point was straight, level, uncrowded, and generally quite ideal for practicing some serious highway driving.
Debbie drove flawlessly for several hours before turning it back over to me to get us through Los Angeles. We hit the outskirts around 2:00 pm, thinking we'd been rather clever and were going to miss rush hour, but the place is so ridiculously sprawling that we still ended up catching quite a lot of traffic and it was around 4:00 pm by the time we made it out to the eastern suburbs on Interstate 10. We spotted a Wienerschnitzel which we couldn't resist, even given the likely parking issues, but we got lucky and scored a primo parking spot across the street.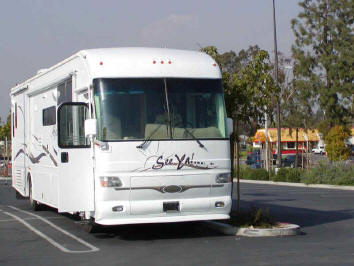 They were running a rare promotion on chili cheese dogs, so we decided to stock up, ordering 9 dogs total. The friendly clerk, upon hearing "for here, please" mentally divided 9 by 2 and clearly concluded we were nuts. But of course, he didn't know about the fridge and microwave lurking in the motorhome. Ah, the joy of leftovers on the road.
Refreshed, we pressed on to the east, passing uneventfully past the thousands of slow-moving windmills around Palm Springs and the "Elevation 0 feet" marker in the desert, and by nightfall were approaching the Arizona border. We'd heard that Quartzsite, AZ was a big RV town, so we decided to pull off and check out the scene there. Maybe it was just the late hour, but the Quartzsite Strip seemed remarkably unwelcoming in the dark, so we decided to just keep going for a while and try "boondocking" for the first time that night.
Boondocking is RV slang for staying somewhere without hooking up to any utilities. When travelling and just needing to stop overnight, you also don't deploy the leveling feet or extend the slide outs, staying compact and making a minimal impact on your chosen (and normally free) parking spot. Our rig is especially well suited for boondocking, by virtue of having extra-large holding tanks, high-capacity battery banks with a high-power inverter, and an 7.5 KW diesel generator that can provide enough power to run everything in the unit if needed.
With the slide-outs in, there is a rather narrow aisle down the middle, but most things remain remarkably accessible and useful. There are a few drawers that get blocked and cannot be opened in this state, which was an important thing to learn as we start deciding where to store all our stuff.
Considering the desert we were in and not expecting to find any Wal*Mart stores (favorite but sometimes controversial overnight spots for RVers) for another couple hunded miles, we decided to stop at a Rest Area around 50 miles into Arizona. I pulled in between a pickup/travel-trailer rig and a Penske rental truck with what appeared to be a Peugeot in tow.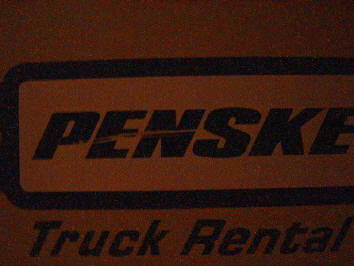 We left the motorhome running for a few minutes to stabilize temperatures and hopped out to survey the place on foot. But we hardly made it two paces out the door however before being ambushed with a call of "wow, nice bus!" from the window of the Penske. Pausing to acknowledge the compliment, I was soon drawn into what turned into quite a saga with the couple in the Penske. It turns out that the woman had multiple sclerosis, but despite being initially described as "in a wheelchair" had a lifelong dream to see the inside of such a "bus." After a little discussion, it turned out that she could get around on crutches with a little assistance, so I told her that we'd let her have a look when we got back from walking around the park. Her companion, who looked a lot like Austin's favorite news-hippie Jim Swift, was apparently dead tired from driving and had fallen asleep rather awkwardly in his seat during this exchange.
So I caught up with Debbie and we strolled around this rather nice rest area, enjoying the spectacularly dark and clear view of the stars above the desert. Very cool. All the while, my subconscious was speculating about just how much gas money these bedraggled folks in the Penske were likely to ask for, since I could (literally) smell it coming. And sure enough, upon returning to our parking spot, the woman called me over and told me their story...
As luck would have it, her name was Carrie, which instantly gave us something in common despite the misspelling. They were moving from Big Bear, California, to somewhere in Oklahoma, which she later pointed out with glee on my road atlas as the town of Shawnee. They were very tired and running low on money, so if we could spare a buck or two for gas, that would be great.
She went on to say that she had been one of the first "Make a Wish" awardees back in 1990 or so, and had enjoyed a trip to Disneyland. Debbie wondered (though not out loud) what a terminally-ill person was doing still alive over a decade later, but we decided there must have been a dramatic medical breakthrough somewhere along the way and let that pass.
Anyway, we were apparently now in a position to make another of Carrie's wishes come true, so I helped her out of the Penske and over to our "bus," and let Jim Swift continue to enjoy some sleep behind the wheel while safely parked instead of while trying to drive. Figuring that we don't pay a fortune for liability insurance for nothing, I helped Carrie clamber on one crutch and one good leg up the steps and into our bus. Naturally, she was delighted with what she saw, even in its relatively cramped "non slid out" configuration. She plopped down on the couch, and described how she had once had a motor home too, albeit a much older and smaller one. They had apparently been living in a nice doublewide in Big Bear, but had somehow traded that for two singlewides in Oklahoma, one of which was destined to provide rental income, a financial rebalancing that both Carrie and I seemed somewhat uncertain of.
Anyway, their immediate problem was they needed some rest, some gas, and some guidance. Someone had told them to take I-17 from Phoenix up to Flagstaff, then go across I-40, but they were rightly concerned that the weather was probably lousy along that route, and were wondering if we could suggest another. Which is when I pulled out the atlas and we started looking. The other alternative was to stay south on I-10 for a while and cut up later, but that would add distance and therefore require even more gas money. After much consternation, I think she decided they would go ahead and brave the Flagstaff route, I contributed $5 toward the cause, and helped her back to the Penske where Swift was still dozing.
Unfortunately, in settling back into her truck seat, she inadvertently put her bad leg through the top of a styrofoam ice chest on the floor, which she tearfully described as having been "brand new." Always the handy fellow, I snatched up the wounded lid and promised to have it back in a moment, knowing that a little duct tape from our coach would be just the ticket (and it was even matching white).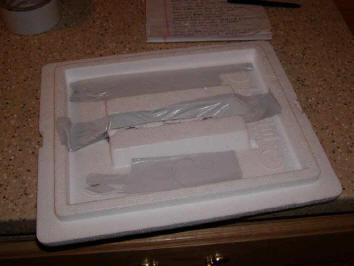 Upon being presented with the repaired lid, Carrie was overwhelmingly grateful, and proceeded to dig out a Diet Coke. Tragically however, there had apparently not been any ice in the chest, so the beverage was warm, and well, did we happen to have any ice?
Heck, we certainly should, I thought, remembering how I had earlier turned on the ice maker in the coach to try it out. Snatching the proffered cup, I returned to the coach and filled it up with perfect ice cubes, made with purified water from our onboard Reverse Osmosis system.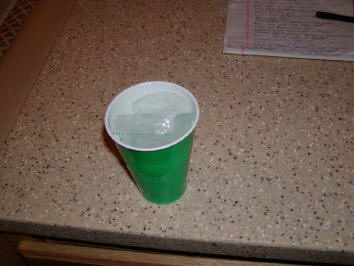 This was getting absurd by this point and Debbie was highly amused at my antics, but I found it pretty cool to have everything we needed to help someone out and just couldn't resist. Maybe it was some old Boy Scout training kicking in too. In any case, Carrie was delighted to have the ice for her Coke, and I was glad to have helped make a few more of her dreams come true.
We had covered 550 miles today and were pretty worn out ourselves, so we hit the sack and tried to get some sleep. It was pretty noisy right by the highway there, so it wasn't the best rest of our lives, but being able to brush our teeth and lounge in a queen-size bed definitely beat sleeping in the driver's seat of a Penske rental truck.
When we awoke in the morning, both the travel-trailer and Penske/Peugeot were gone, replaced by a different travel-trailer and an old Ford LTD packed with what looked like about 10 people. An interesting way to travel, for sure.
---
HOME TRAVEL LOG MOUNTAIN BIKING WINDSURFING STORY ARCHIVES RV INFO PHOTOS CONTACT US
---