---


HOME TRAVEL LOG MOUNTAIN BIKING WINDSURFING STORY ARCHIVES RV INFO PHOTOS CONTACT US
---
(click on photos to enlarge)
---
"Mountain Power"
Roseburg, OR >>> Sacramento, CA >>> Santa Nella, CA
March 6, 2003
Story by Carey
On our route, the Siskiyou range near the Oregon/California border would be the most significant climb we would face. This provided a great opportunity to see how the Alfa drove and performed in the mountains. It proved to be plenty capable, maintaining 45-60 mph up many grades that reduced big rigs and other motorhomes to the 30 mph range. Although we were hardly going fast in absolute terms, it was undeniably cool to just motor right on by other large vehicles struggling along in the "slow lane." And with that torquey brute of an engine dug in and churning away in the distance behind us, we were left to quitely contemplate the panoramic views rolling by out the huge windows up front. Great example of why people get so excited about diesel pusher motorhomes.
The drive down from the summit was pretty cool too. The Alfa is equipped with an electrically-activated exhaust brake, which keeps downhill speeds nicely in check without having to worry about overheating the service brakes. You just flip the RETARDER switch, and it then automatically engages whenever you let off the gas.
We cruised past Lake Shasta and Mount Shasta, both of which are beautiful sights to behold, before rather suddenly emerging from the mountains and onto the flatlands of Northern Central California. We stopped for a break at a rest stop, and ended up juxtaposed next to a grass hauler that presented a remarkably similar profile to ours.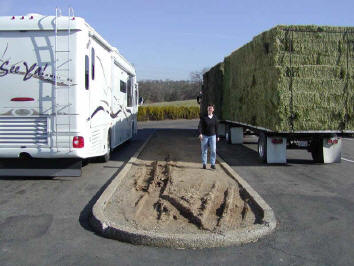 Fortunately, we didn't encounter any rattlesnakes: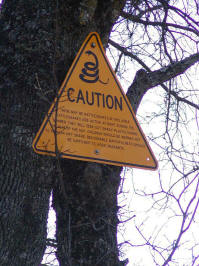 We hit Sacramento right at rush hour, which presented us with a chance to test firsthand Debbie's theory that being stuck in traffic in a motorhome would be less vexing than in a regular car. And guess what -- it was. Without any real possibility of weaving around trying to pick the best lane, and a general sense of not being able to get anywhere in a hurry in this thing, we just trundled slowly ahead and enjoyed the view from high above. Shortly outside Sacramento we spotted a "dream team" of a dining opportunity -- an In-N-Out Burger with a Krispy Kreme next door -- and couldn't resist exiting and battling the heavy traffic and working to find a place to park the beast.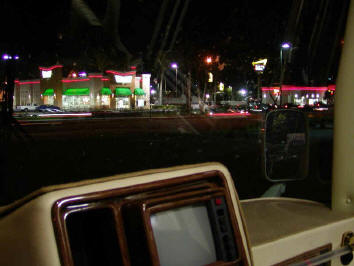 After enjoying that great combo, we drove until about 9 p.m. before finally stopping for the night at the Santa Nella RV Park, having covered a respectable 520 miles today. We had a slight mishap trying to deposit the camp fee into the drop slot, and ended up needing some duct tape and a long stick to retrieve the envelope from under the porch...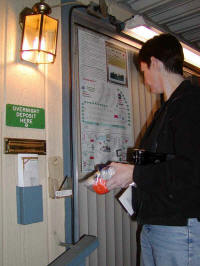 But this proved to be another nice park, which during the off-season was set up with spacious double-wide pull thrus. Beautiful clear sky at night, and functional hot water in the morning. Ah, all's well that ends well.
---
HOME TRAVEL LOG MOUNTAIN BIKING WINDSURFING STORY ARCHIVES RV INFO PHOTOS CONTACT US
---