---


HOME TRAVEL LOG MOUNTAIN BIKING WINDSURFING STORY ARCHIVES RV INFO PHOTOS CONTACT US
---
---
SALT LAKE CITY, MOAB, AND BACK TO TEXAS
DEBCAR UPDATE # 13
Covering December 13, 2004 to December 25,2004
Published August 19, 2005
---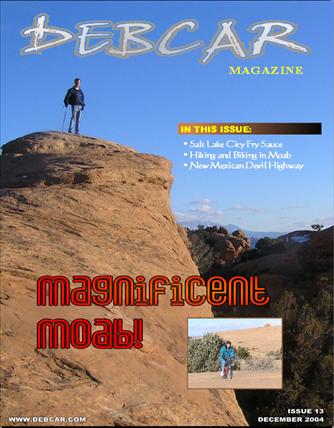 Click here to download Issue 13 of DEBCAR Magazine (2.7 MB PDF file suitable for screen viewing)
Click here to download Issue 13 of DEBCAR Magazine (6.7 MB PDF file suitable for printing)
---
First, let me take this opportunity to wish all you Debcaroids a slightly belated "Merry Christmas!"
Now, with that out of the way and the appropriate holiday mood established, please return with us via the magic of the internet once again to last winter, and enjoy lucky installment number 13 of our ongoing saga, starting below:
Smothered in Salt Lake Fry Sauce
Taking the Devil's Highway Home for Christmas (How Ironic)
And with that, I'll wish you "Happy New Year!" and we'll get on with bringing you tales of what we've been up to in 2005, highlighted by a fantastic spring windsurfing in Corpus Christi and what's turning into a sprawling loop around the country this summer. At the moment, we're camped on the almost-but-not-quite-lakefront property of a self-described Jewish hillbilly/lawyer/salad dressing entrepreneur/simulator customer in Michigan. We're surrounded by a phalanx of trees so tall our internet satellite dish can't see over them, but this is otherwise quite a pleasant spot to live and work from for a while.
- Carey
---
---
HOME TRAVEL LOG MOUNTAIN BIKING WINDSURFING STORY ARCHIVES RV INFO PHOTOS CONTACT US
---