---


HOME TRAVEL LOG MOUNTAIN BIKING WINDSURFING STORY ARCHIVES RV INFO PHOTOS CONTACT US
---
---
GREATER LOS ANGELES, CALIFORNIA
DEBCAR UPDATE # 6
Published April 19, 2004 / Covering December 9, 2003 to January 20, 2004
---
Okay, apparently some of you people actually check this website from time to time, because we've been getting complaints, demands, and even threats from DEBCAR readers wanting more. So here's a new offering that brings our story almost up to date. Now sure, the events covered in this update happened some three months ago, but there isn't too much to report on for February or March since we were just living behind the office in Austin building a batch of new simulators. Well, there was that little weekend in the French Quarter...
And now we're in the middle of our latest adventure, spending about a month down on the Texas gulf coast in the Corpus Christi area, which we'll report on next. So without further ado, here's the latest:
"Fast Cars, Perfect Waves, and Fancy Flowers"
Hope y'all are doing well, and as always, feel free to email any comments, news about your own lives, or friendly taunts you feel like sending our way.
- Carey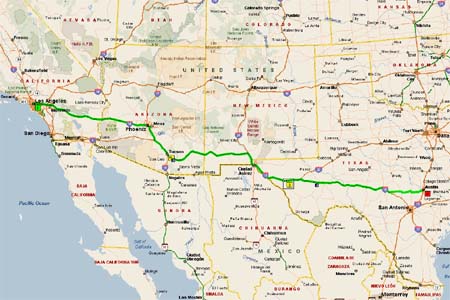 ---
---
HOME TRAVEL LOG MOUNTAIN BIKING WINDSURFING STORY ARCHIVES RV INFO PHOTOS CONTACT US
---