---


HOME TRAVEL LOG MOUNTAIN BIKING WINDSURFING STORY ARCHIVES RV INFO PHOTOS CONTACT US
---
(click on photos to enlarge)
---
"Internet Anywhere! - Motosat Datastorm Satellite System Installation"
Tucson, AZ
November 24, 2003
Story by Carey
The Datastorm satellite internet system has been a key part of our plan to be able to live and work productively from an RV pretty much from the start, since it will allow us to connect to high-speed internet service from anywhere, including places without either wired or cellular telephone service.
We were finally getting around to picking a dealer and getting one installed, when I happened to be browsing the DatastormUsers website, and noticed that one of the best-known Datastorm roving installers happened to be in Tucson. Yes, there is a website for people who have these systems, that among other things, allows people to post their current location on a map of North America. The Datastorm system includes GPS to know where it needs to point itself, which also makes it easy for everyone with one of these things to post their location (on a voluntary basis, luckily).
Anyway, I emailed Bill Adams of InternetAnywhere and explained that I noticed that he appeared to be sitting in parking lot next to Camping World a few miles up I-10 from us, and was wondering if he happened to have a Datastorm system on-hand he could install for us. Despite being a little creeped out by being so accurately pinpointed by someone he had never met, Bill replied that indeed he did have an extra Datastorm in his truck, and could juggle his schedule a bit and install it for us the very next day. Great!
So first thing Monday morning, Bill and his wife Janet showed up and hoisted the 110 pound thing onto our roof. Janet did most of the "real work" outside, drilling and caulking and bolting the rig down, while Bill handled the interior wiring and got all the electronics set up and connected to the computer.
By 2:00 in the afternoon, we were online, and I could finally return the superdeluxe WiFi receiver box, which was a good thing because it was having one of its "difficult" days and I was just about ready to crush it into tiny plastic and silicon bits by running over it with the 30,000 pound motorhome. Instead, I hopped on the bike and enjoyed a little exercise, and dropped it off at the Voyager front desk.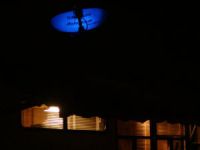 Debbie went outside that evening and a neighbor said, "That's a pretty blue light you have up there." Huh? She looked up and was shocked to discover the rather large dish was bathed in soothing blue light. I thought it was pretty cool, but Debbie immediately associated the color with K-Mart's Blue Light Specials, and generally found the thing rather obnoxious, so we've figured out how to normally keep the mood light dark and reserve it for "special occasions."
---
HOME TRAVEL LOG MOUNTAIN BIKING WINDSURFING STORY ARCHIVES RV INFO PHOTOS CONTACT US
---