---


HOME TRAVEL LOG MOUNTAIN BIKING WINDSURFING STORY ARCHIVES RV INFO PHOTOS CONTACT US
---
(click on photos to enlarge)
---
"Oh My God, What Have We Done?"
Austin, TX >>> Portland, OR >>> Vancouver, WA
March 4, 2003
Story by Carey
We were up at 5:00 a.m. for our flight, which Larry was nice enough to haul us to the airport for. Naturally, having purchased web-discounted Northwest tickets for flights on Continental planes, we received extra special treatment. This package included maximum-strength security screening right down to our shoes, having a tow-bar break while trying to push back from the gate leading to an invogorating sprint to make our connection, and being treated to the tortured cries of adjoining babies on both flights. Nonetheless, we did make it to PDX eventually where the sellers Rik and Konnie fetched us to go see our new home.
Rik had been determined to ensure this coach was as close to perfect as possible and had taken it to the dealer for one last little upgrade the previous week, but as often happens, in fixing one thing they managed to break another, which led to Rik pulling all kinds of strings to get the needed replacement part overnighted in from the factory. He was up at 3:00 a.m. to intercept the part from UPS at the airport and personally ferry it to the dealer. All his efforts paid off though, because by the time we arrived, the rig was set up and toasty warm for us as planned at the Van Mall Eastside RV Park just across the state line in Vancouver, WA.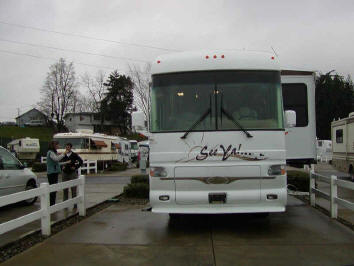 As expected, the motorhome was sparkling clean inside and out and even had the coveted "new motorhome smell." Although technically a used vehicle, it is a 2003 model that was in service for barely 6 months, and in many ways is better than a brand new one. Rik is president of a company called RV Consulting Group, which buys these things and goes through them with a fine tooth comb, finding and fixing problems and adding upgrades as a service to the RV manufacturers who use the information to improve their products. Their tweaked RVs often serve as "show coaches" at rallies, although Rik had planned to keep this one as his personal home due to its extraordinary livability.
We had been researching the Alfa motorhome for months, and one of the best resources on the web was an email list which, not coincidentally, was moderated by Rik. When we read on there last November that he was going to be selling his Special Edition See Ya this spring, Debbie and I jumped at the chance and managed to be the first to get our deposit in. And now, after a three-month span that seemed both interminably long yet all too short given all the preparations we had to do, we were finally poised to take the wheel of our new home.
Surprisingly, neither Debbie nor I had ever so much as ridden in a motorhome before, much less driven a 40-foot long, 30000-pound, diesel-powered, air-braked monster like this one. But I figured, heck, how hard can it be? So Rik drove it out of the park to a nearby highway, then pulled over onto the shoulder to let me take over. We were in the ever-soggy Pacific Northwest, so the first order of business was to figure out how to work the wipers. No problemo. They're pushbutton controlled by the Freightliner SmartWheel (tm), which I hoped was smart enough to help steer me clear of trouble too.
With wipers and fans humming away it was time to try and merge with traffic. I punched the gas and whooosh -- off we went. The rear-mounted Caterpillar 7.3 litre turbodiesel's 330 horsepower and 860 lb/ft of torque propelled the big rig nicely up to speed, with only a faint rumble audible up front. Very cool.
After a while crusing along the highway, it was time to head for the bank. This required dicing with lots of cars and Hummers and similar puny vehicles buzzing around below us on city streets, navigating through several tight parking lots, and making a series of the dreaded "right turns." I was so delighted to have snuggled the thing right up by the curb without destroying anything that I just had to commemorate that minor triumph with a photo: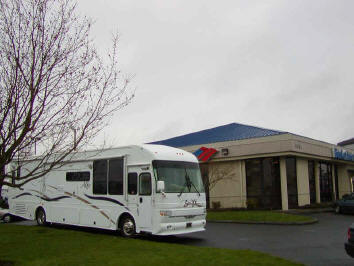 Unknown to me, this first ride had been a bit intense for Debbie, perched sideways with Konnie on the couch in back, so I agreed to take it extra-super-slow around corners and when approaching intersections for a while until we got used to the unusual sensations of riding in the thing. Sure enough, a few days later we were both comfortable enough to get up and microwave lunch while thundering down the highway -- one of the great little perks of motorhoming versus trailering.
After enduring the usual frustrations associated with seemingly all Bank of America transactions, we eventually got the appropriate paperwork and funds exchanged, and the deal was done. Traffic had really started to pick up, so Rik maneuvered us out of the bank and back into our reserved spot at the RV park, where we got to experience the much-anticipated "hook up" process. This involved connecting the fresh water hose, plugging in the massive 50-amp power cable (sized like a hose), and culminated with the ceremonial placing of a large rock atop the sewer hose to keep the contents going where they should. Hopefully. A proper threaded sewer adaptor rose to the top of our list of needed RV supplies...
Everything seemed to be ship-shape, so Rik and Konnie said their goodbyes (to us and to the special motorhome they had worked so hard on) and closed the door, leaving us suddenly alone. Standing in the living room amid a veritable sea of white leather recliners, listening to the rain quietly thudding against the rubberized roof, Debbie wondered aloud, "Oh my God, what have we done?"
We had been going non-stop from one stressful thing to another for 14 hours that day and were pretty fried, but it was a pretty remarkable feeling. After a much-appreciated hug, we started to stumble around, unpack, and generally settle in to our new home. We had read all the manuals in advance, but it was still pretty overwhelming just figuring out where the various light switches were, how to lock and unlock the myriad doors, and generally decipher what needed to be done to accomplish life's little essentials.
Which brings us to our first crisis. Even after working through all possible combinations of what seemed to be the relevant switches and valves, we still didn't seem to have any hot water. Hmmmmm, what to do? We decided to procrastinate and go for a walk and find some dinner. This RV park was in a rather nice suburban area, with shopping and restaurants all around, which worked out great. We found a Mexican place and enjoyed some surprisingly good non-Tex-Mex burritos, before calling Rik who said he'd come by in the morning and have a look at the hot water. The park had a very nice bath/shower facility, so that was a perfectly practical plan.
We figured out how to raise and aim the antenna and watch some TV before finally hitting the sack. Rik's marvelous little bedroom/bathroom electric heater upgrade, along with the central heat pump, kept the coach toasty warm even as the temperatures dipped down into the 40's outside. Admittedly, we were quite exhausted, but we slept very well indeed that night.
---
HOME TRAVEL LOG MOUNTAIN BIKING WINDSURFING STORY ARCHIVES RV INFO PHOTOS CONTACT US
---