---
D I G I T A L V E H I C L E S I N C.
DEVELOPER OF DRIVING SIMULATION SOFTWARE AND COMPONENTS
Click here for our archived racing simulators website,
OR
Scroll through the log below that documents our history of innovation from 1987 to the present.
---
DRIVING SIMULATION GALLERY
Jump directly to a bookmarked section below, or just scroll down this page and explore some of the cool driving simulation systems we've helped build over the last several decades.
KRIGSHAK DVI-RACING EVENTS CUSTOM DVI-TRAINING EXCEL IMX ATS SIMTECH COMPONENTS
---
Racing Simulation Hobby Phase
A series of home-built Formula One simulators were developed by Carey Kriger under the Krigshak pseudo brand between 1987 and 1994, mainly because there were no commercial software or hardware products realistic enough to satisfy a serious racing enthusiast at that time.
Development started as an interesting side-project while earning an Electrical Engineering degree from the University of Texas at Austin, and continued as a weekend hobby during five years working for Houston Instrument.
All needed software, mathematics, graphics, sound, electronics, and mechanics were basically developed from scratch.
Much was learned, and much fun was had racing with friends during this era!
---
1st Generation Krigshak F1 Simulator:
(circa 1987)
Based on an original IBM PC with 8088 CPU at 4.77 MHz, CGA graphics, and monochrome monitor.
Software supported relatively-realistic vehicle physics, with 2D top-down graphics initially, and 3D wireframe graphics later.
Hardware interfaced via parallel port and custom wire-wrapped circuit boards. Belt-driven force-feedback steering!
Written mostly in Assembly Language with some C.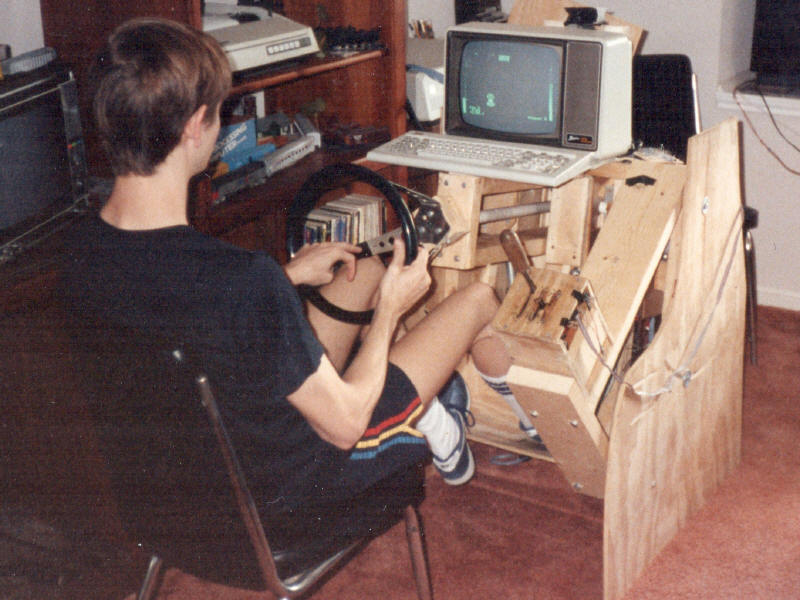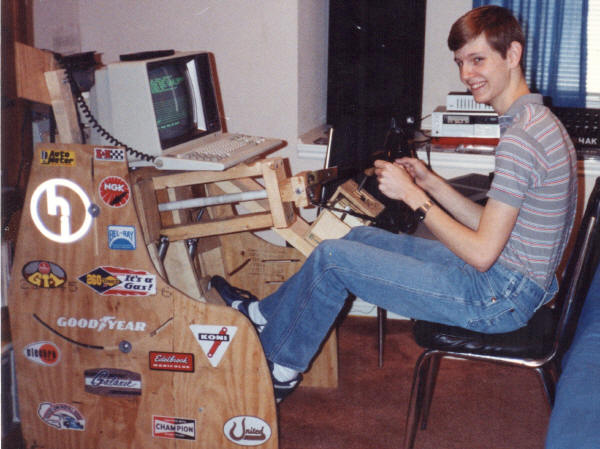 2nd Generation Krigshak F1 Simulator:
(circa 1989)
Used a 20 Mhz 286 CPU and was linked via RS-232 to the 1st Generation simulator for head-to-head racing.
Software supported 3D wireframe color graphics with sprite overlays, and a complex vehicle physics model that is still largely intact today.
Hardware interfaced via custom wire-wrapped ISA board.
Written mostly in C with some Assembly language.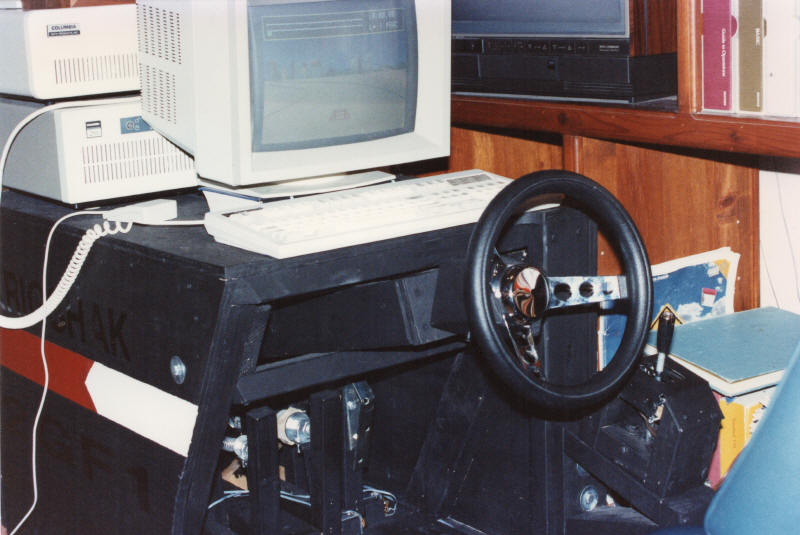 Archival video footage from 1989:
3rd Generation Krigshak F1 Simulator:
(circa 1991)
Featured a stylish triple-monitor enclosure, brake pedal with a mini-football as the resistance element, a new anti-backlash steering mechanism with paddleshifters, and more.
66 Mhz 486 CPU and triple Texas Instruments 34010 graphics boards.
Software supported 3D shaded-polygonal graphics spanning three monitors, running on MS-DOS.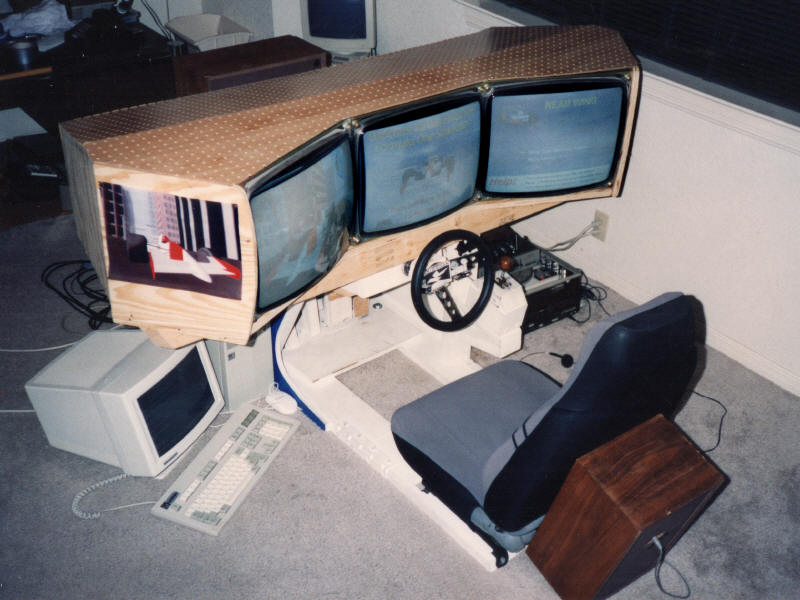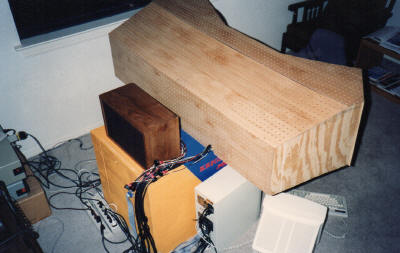 4rd Generation Krigshak F1 Simulator:
(circa 1994)
Raised the chassis off the floor and fitted casters, along with a proper racing seat with integrated surround-sound and bass shaker, and new machined (non-wooden!) steering, pedals, and shifter mechanisms. A test mule for what would soon become Digital Vehicles' first commercial simulator.
266 Mhz Pentium CPU and triple Texas Instruments 34020 graphics boards.
Software supported 3D shaded-polygonal graphics spanning three monitors, running on MS-DOS.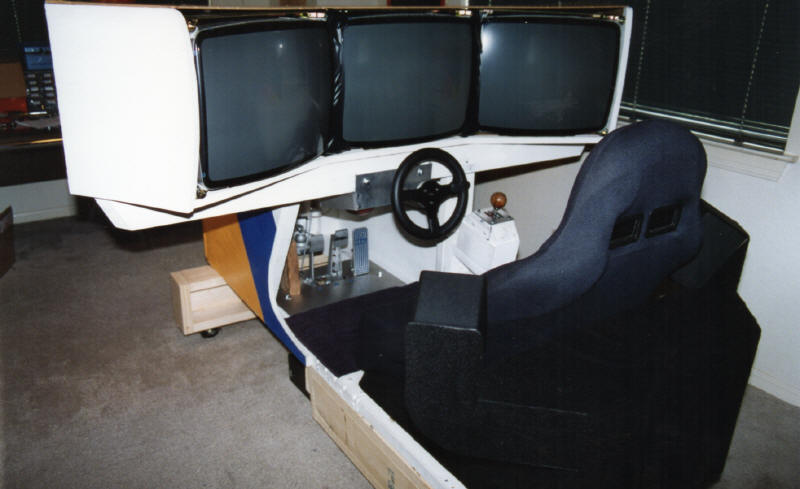 ---
Racing Simulation Business Phase
Digital Vehicles Inc. was founded in 1995 with backing from investor George More, to commercialize the technologies developed during the hobby phase. Amazingly, DVI has now provided interesting full-time employment for over 20 years, and counting.
---
5GF1 Digital Race Machine
(with triple 20-inch monitors)
DVI's first commercial prototype simulator was a more-polished but still quite raw version of the last Krigshak model, but featured a proper metal frame and machined components: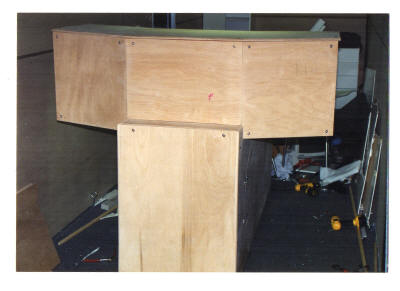 The 5GF1 debuted at the 1995 Long Beach GP race party sponsored by Grand Prix Tours and RACER Magazine, where it was tested by several famous Indycar drivers and other enthusiasts: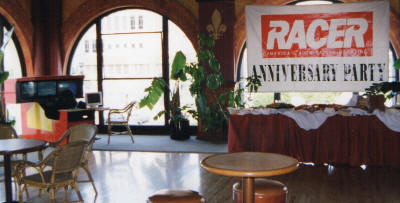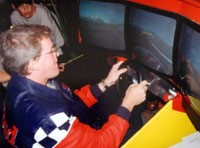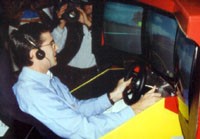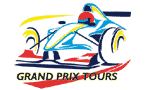 That was followed by a nationwide tour of automotive magazines, racing schools, racing events, and entertainment centers: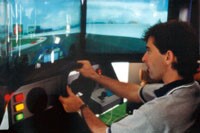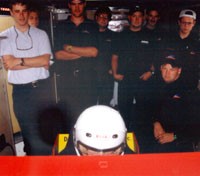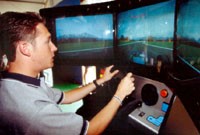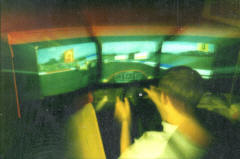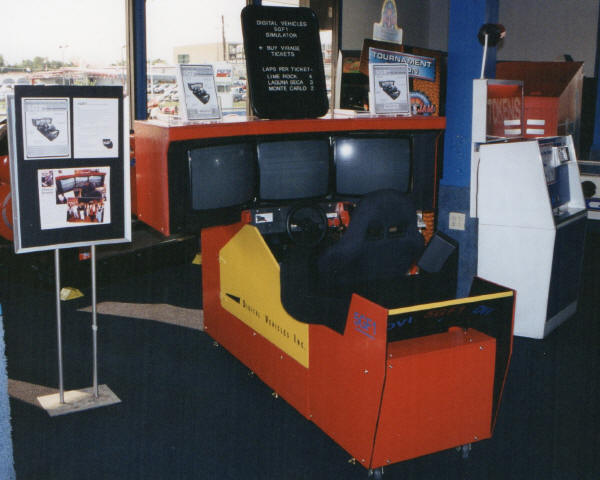 ---
Pacesetter 8000 Series Racing Simulators
These were DVI's first polished, fully self-contained products, intended for upscale entertainment venues and corporate marketing purposes.
Pacesetter 8127 Racing Simulator
(with single 27-inch monitor)
Debuted alongside the 5GF1 prototype simulator at the 1995 IAAPA show in New Orleans: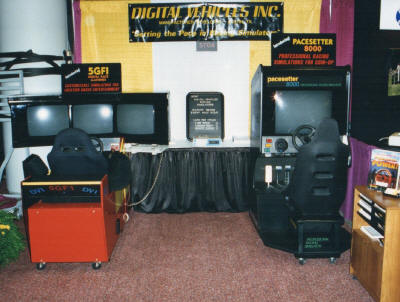 Pacesetter 8133 Simulators
(each with single 33-inch monitor and acceptor for $1/5/10/20 dollar bills)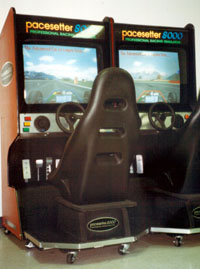 Pacesetter 8327 Formula and Deluxe Simulators
(with three 27-inch monitors and optional mini-racecar bodywork)
The 8327 models debuted at the 1996 IAAPA show in Orlando: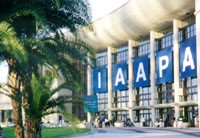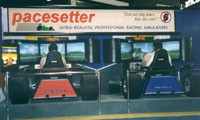 Along with a custom demo system for SEOS Displays from the U.K.: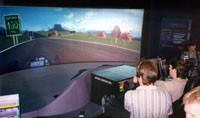 Archival video footage from 1996:
---
Camber Entertainment and Pulseworks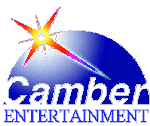 An F1-style fiberglass body option for the Pacesetter was produced in 1997 by new distribution partners Camber Entertainment U.K. and Pulseworks USA. The sleek new physical package along with ever-improving software and graphics helped boost distribution worldwide.
Pacesetter Grand Prix Simulator
Pacesetter Rally Simulator
A rally model was also developed with Camber, using third-party rally racing software with Digital Vehicles components:

---
Pacesetter Simulators were installed in linked multiples at various entertainment venues around the world, such as:
Memphis Motor Speedway:
Memphis, TN
Space Center Houston:
Houston, TX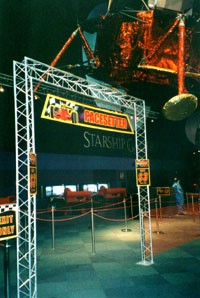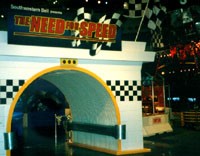 West End Marketplace:
Dallas, TX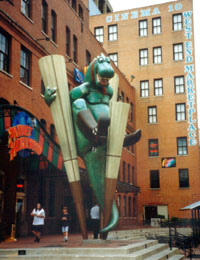 Monde Virtuel:
Montreal, Canada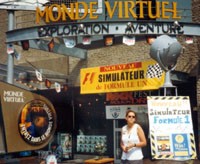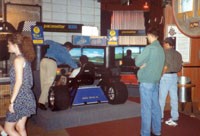 These two simulators happened to catch the attention of one particularly-interesting customer in 1997, F1 racing driver and Montreal resident Jacques Villeneuve, who went on to win the Formula One World Championship that year (obviously benefiting from practicing on the Pacesetter, ha):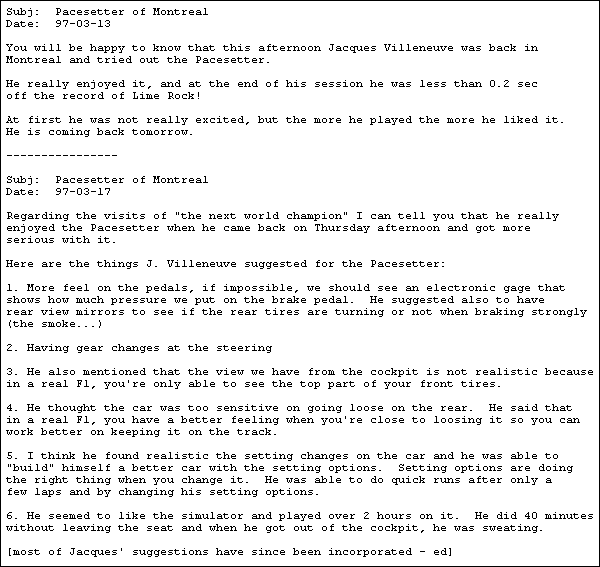 By the early 2000s, there were 40+ Pacesetters and an additional 60+ Pacesetter-derived custom simulators in the wild, scattered across a dozen countries on four continents.
---

Together with associates in the USA, Belgium, Switzerland, France, and Hungary, we helped design and build a fleet of big, impressive, and mobile racing simulators for corporate brand promotion worldwide.
F1 Mega Unit Simulator
and
F1 Qualifying Unit Simulators: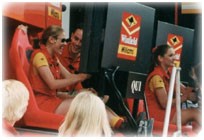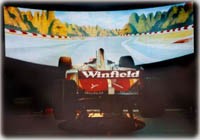 F1 Swingarm Simulator: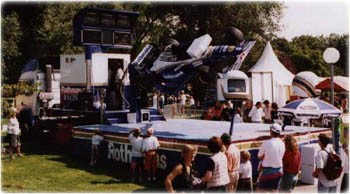 Archival video footage from 2005:
F1 Twin Simulator:
Additional F1 Qualifying Unit Simulators: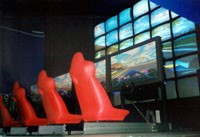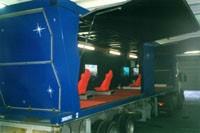 Archival video footage from 2005:
---
New Concepts International (NCI)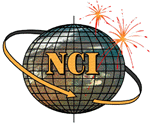 Customized Pacesetter simulators for corporate events and traveling attractions, based in Montreal, Canada
---
Invert Adventures
and
International Marketing Developments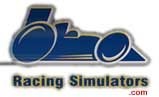 Customized Pacesetter simulators and related business programs for corporate marketing, based in Vancouver, BC and Austin, TX.

Archival video footage from 1998:
Archival video footage from 1998:
---
Bridgestone/Firestone USA

BFUSA transported customized Pacesetter simulators to promotional events nationwide, using a unique half-and-half transporter rig:
Pacesetter 8320 Junior Simulators: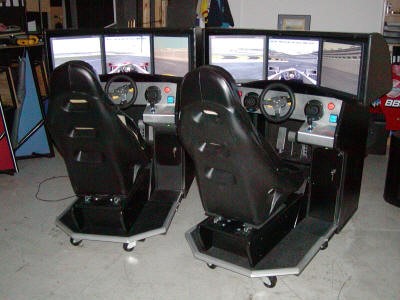 Archival video footage from 2002:
---
Other Corporate Marketing Simulators
We did a lot of tradeshow and racing event rentals over the years, often featuring customized on-screen graphics and matching physical bodywork: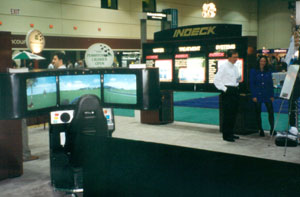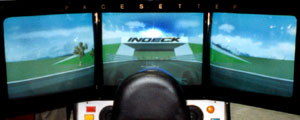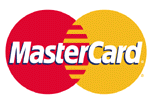 ---

Indycar and NASCAR Simulators
Produced large-scale installations of multiple, networked racing simulators, based on source-licensed Digital Vehicles physics/control software, steering components, and related custom development support.
Deployed at Sahara Speedworld and NASCAR Cafe in Las Vegas, ESPN Zone in New York's Times Square, and elsewhere: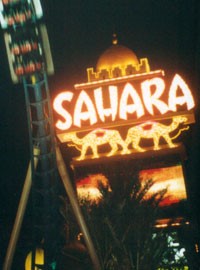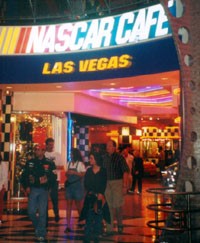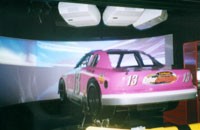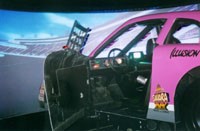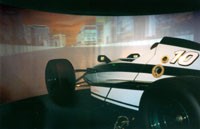 ---
GM Driving Technology Lab at EPCOT Center
A dozen "Future GM Driving Technologies" simulator stations were produced in conjunction with BRC Imagination Arts and VisionQuest, using some simulator hardware components and know-how from Digital Vehicles: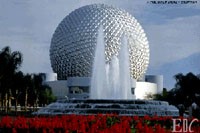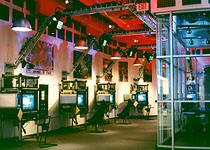 ---
Software Licensing and Custom Game Development
Digital Vehicles' vehicle physics code and VisionQuest's graphics code were licensed to form the basis of several consumer game titles: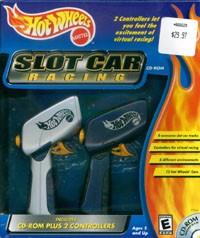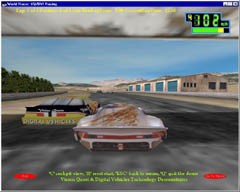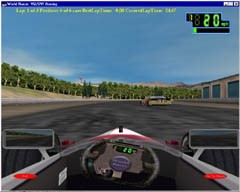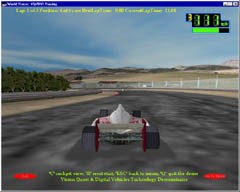 ---
Airport Emergency Response and PatrolSim Prototype Simulators

We sold a couple of Pacesetter cabs (without software) and some custom forklift controls to GE I-Sim corporation, and helped integrate our hardware with their software. This enabled them to rapidly demonstrate to potential customers several prototype "low cost" triple-screen training simulators, including an airport emergency response simulator and what became their market-leading PatrolSim police simulator.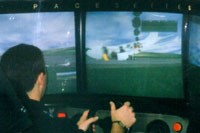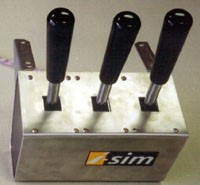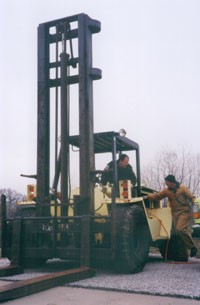 ---
Collection of Early Components and Marketing Fluff from the Digital Vehicles Racing Era
---
Commercial Driver Training Simulation Business Phase
A gradual de-emphasis of racing simulators in favor of driver training simulators began in earnest around 2003, with the design and production of a new product line.
A new Windows C++ software package optimized for driver training (called "TRAINER") was created, by combining the core vehicle physics and simulation control code from the Pacesetter racing simulators, with a new DirectX-based graphics engine and 3D visual models from David Hooper of VisionQuest (who remains a key development partner to this day).
---
Pacesetter "El Camino" Driver Training Simulator
(high-quality passenger car and light truck training in one low-cost unit)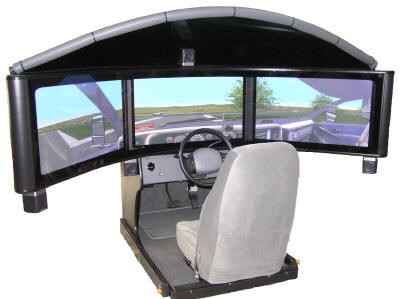 ---
Road Safety / DATS
Teen Driver Training Simulator
Road Safety Simulation Center:
Thousand Oaks, CA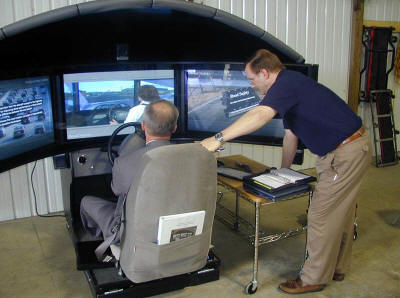 Archival video footage from 2004:
---
Ambulance Driver Training Simulator
National EMS Academy:
Lafayette, LA
Archival video footage from 2004:
---
Adult Driver Training Simulator
SENICA Court-Mandated Training Center:
Detroit, MI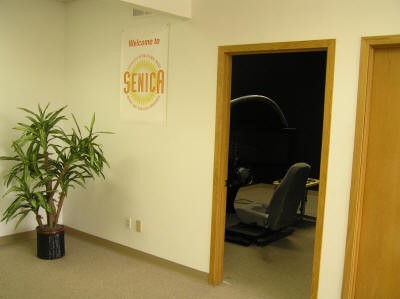 Archival video footage from 2005:
---
Pit Mine Driving Simulator
Kennecott Utah Copper Corporation:
Salt Lake City, UT
---
Semi-Truck and Light Vehicle Training School based in Denver, CO.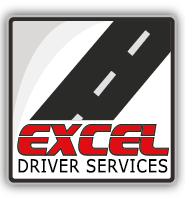 ---
Excel Mobile Simulation Classrooms:
---
International ProStar Semi-Truck Simulator:
(with real, working rear-view mirrors)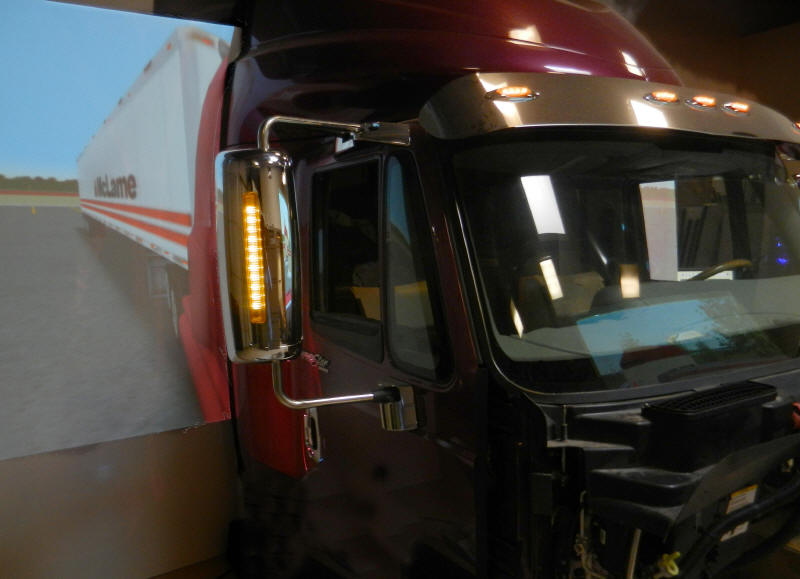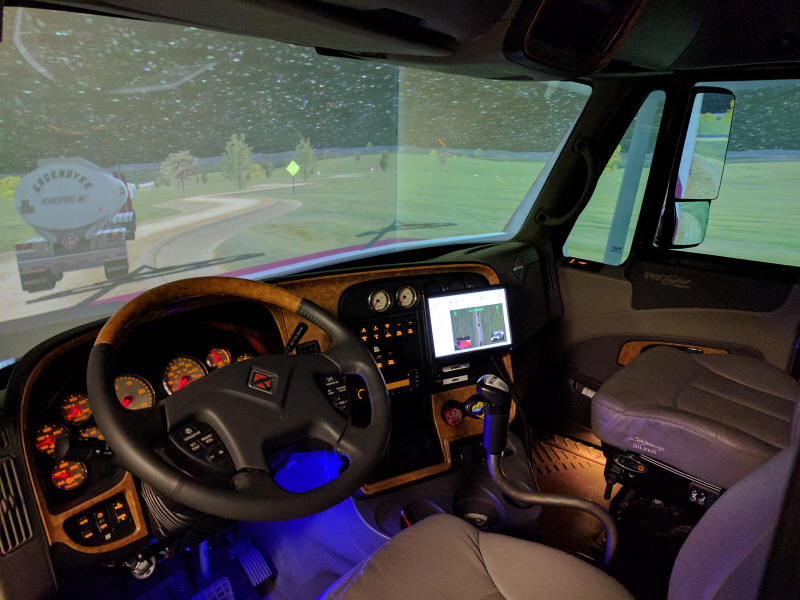 ---
Freightliner Scorpion Semi-Truck Simulator: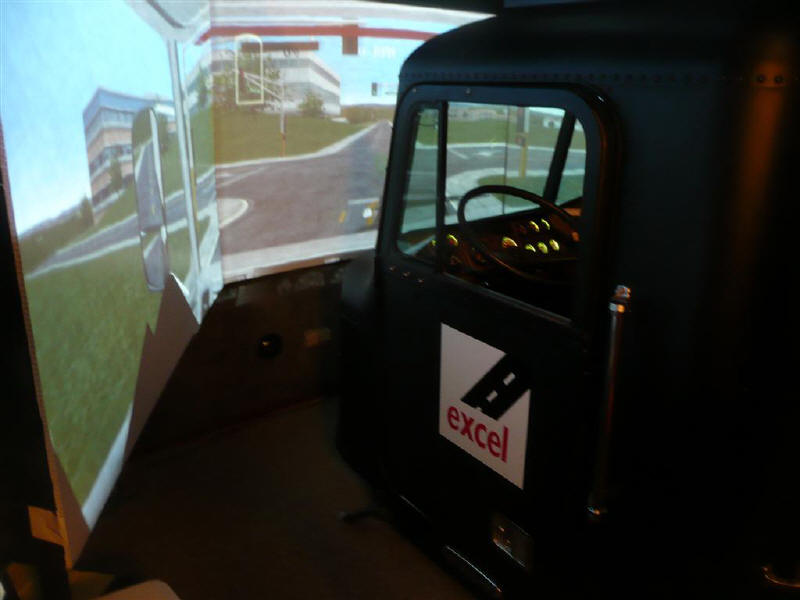 ---
Excel Multi-Use Simulator with Interchangeable Cabs:
(Semi-Truck / Light Vehicle)
---
Excel PatrolSim upgraded to Digital Vehicles system:
---
Excel Humvee and Nuclear Missile Transporter Simulations:
(for US Air Force)
---
Oceanside / Fallbrook, CA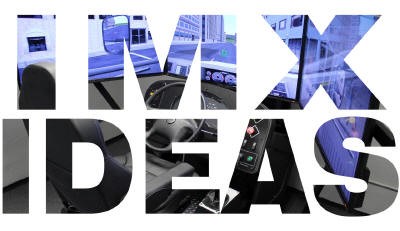 ---
Bus, Truck, and Car Driver Training Simulators
Based on Digital Vehicles electronics and TRAINER software, IMX systems feature proprietary onset cue motion systems and nicely-finished cab designs, and are often deployed into Mexico.
---
ICET City Bus Training Center:
Monterrey, Mexico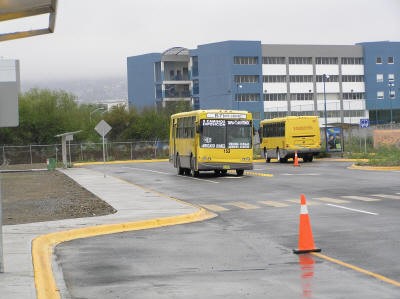 Light-vehicle simulation training trailer for PEMEX: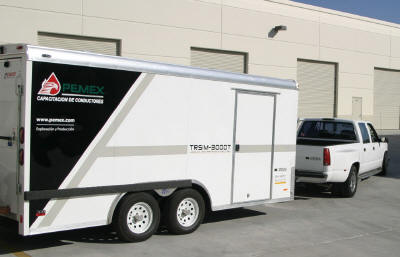 Archival video footage from 2006:
---
Tampa, FL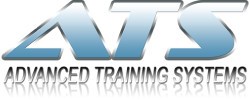 ---
TransMaster Semi-Truck Simulators
Built by IMX, with Digital Vehicles electronics and TRAINER software, these feature patented self-guided shifter training content from ITI, along with a realistic heavy truck shifter with up to 18 speeds and gear-grind / lock-out effects.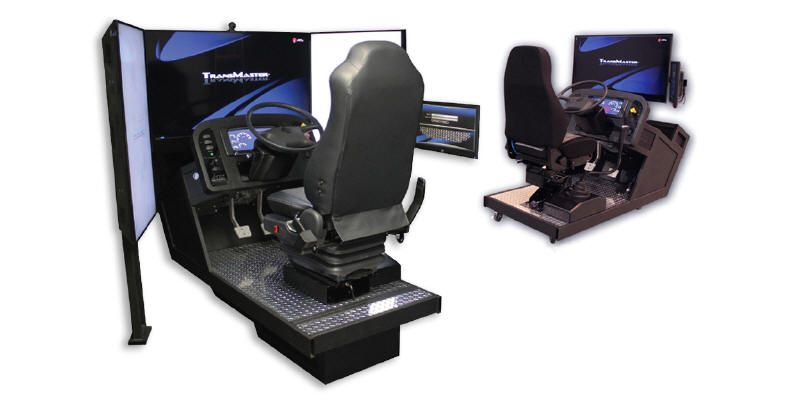 ---
TransMaster Plus Semi-Truck Simulators
Werner Enterprises
Indianapolis, IN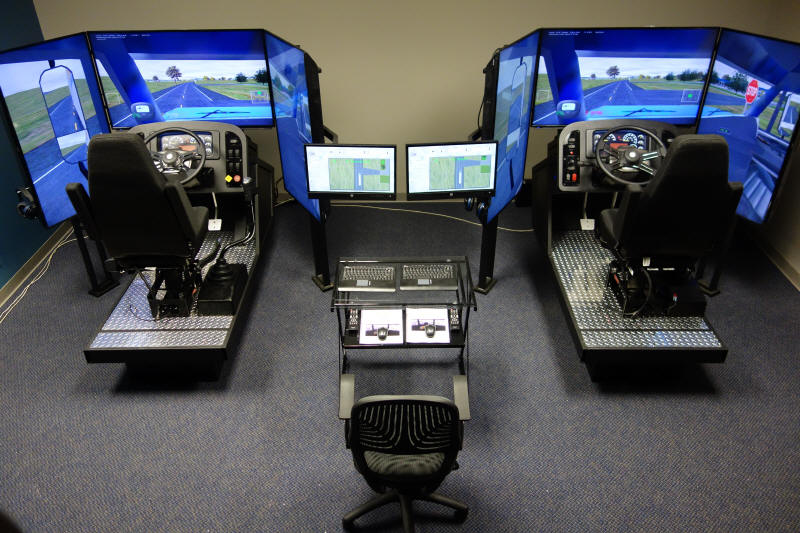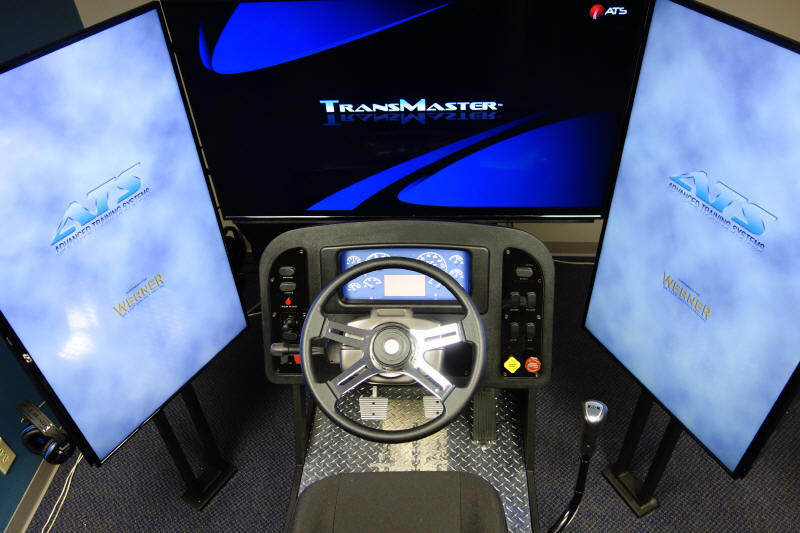 ---
TransMaster Plus Simulator
Tennessee College of Applied Technology
Shelbyville, TN
---
TransMaster Basic Simulators
Metropolitan Community College
Kansas City, MO
---
TransMaster Plus Simulators
Roadmaster Drivers School
Tampa, FL
---
TransMaster Plus Simulator
Georgia Driving Academy
Conyers, GA
(and others, elsewhere)
---
Sycamore, IL
---
Fire, EMS, and Police Driver Training Simulators
Based on Digital Vehicles electronics and TRAINER software, most of Simtech's products feature beautifully-finished cabs from real emergency vehicles, combined with a unique five-screen wraparound display system and DBOX motion actuators. These are often deployed as multi-simulator setups in custom-built mobile classroom trailers.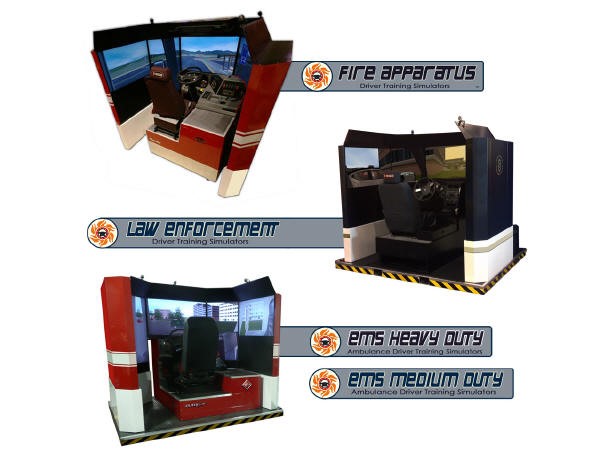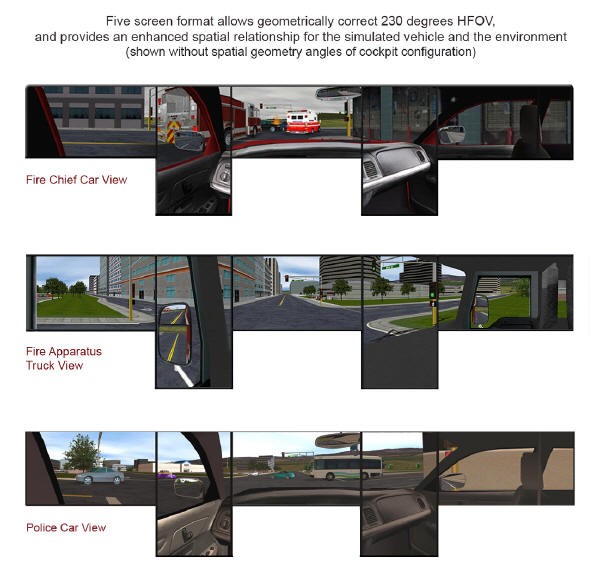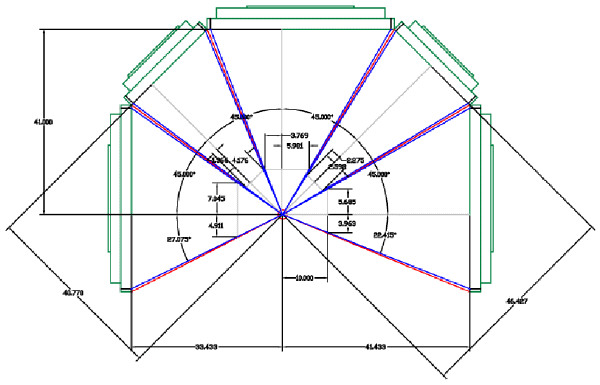 ---
Dodge Charger Police Simulator:
(first generation)
Morrow, GA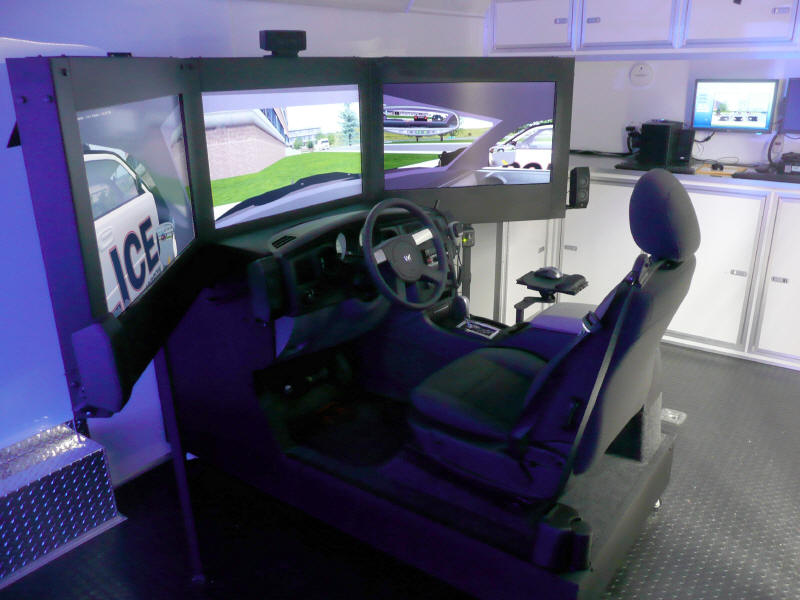 ---
Ford Crown Vic Police Interceptor Simulator: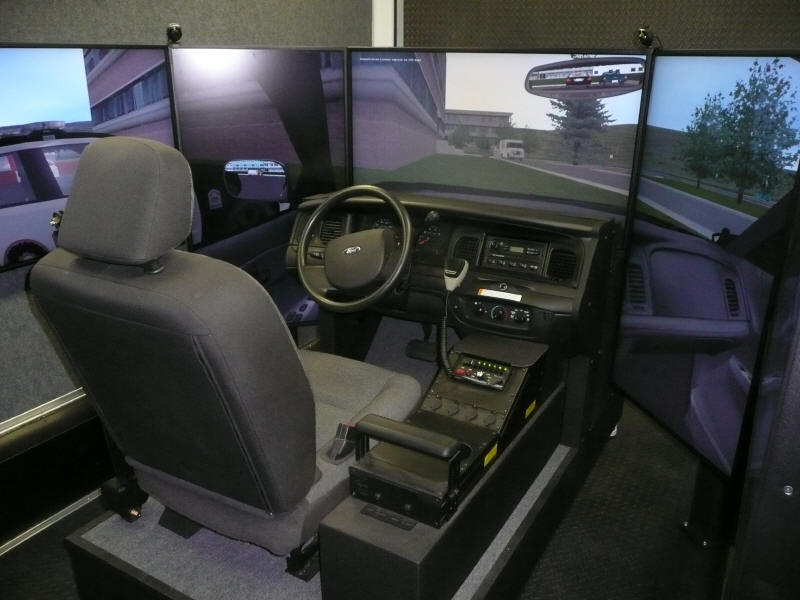 ---
Dodge Charger Police Simulator
(Second Generation)
Michigan State Police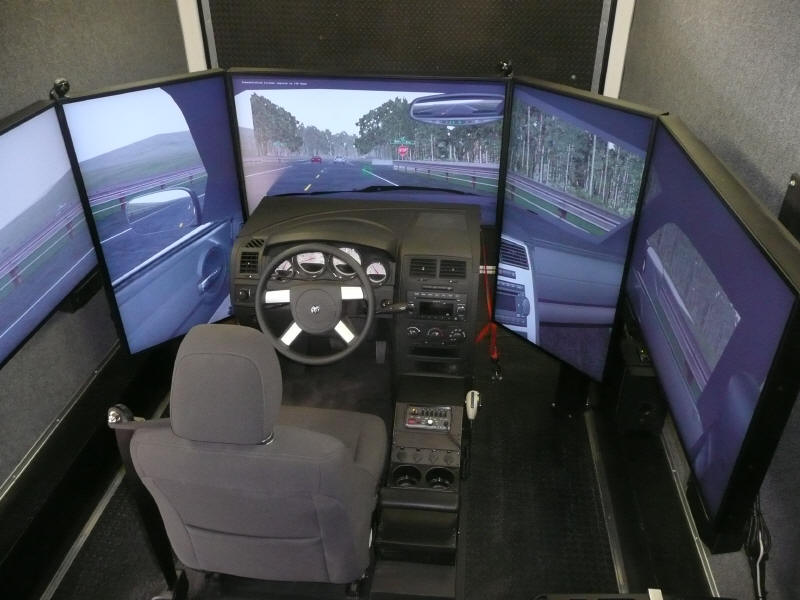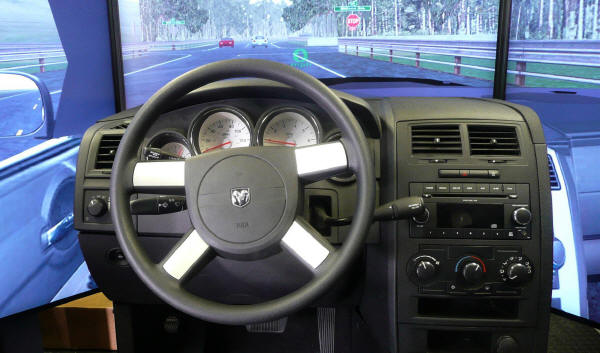 ---
Pierce Velocity Fire Simulator
East Tawas, MI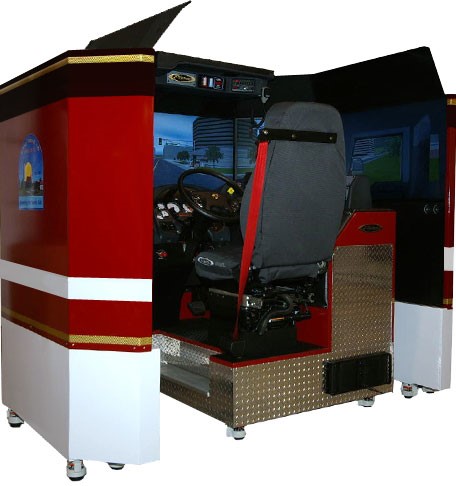 ---
Dodge Charger Police Simulator:
(Third Generation)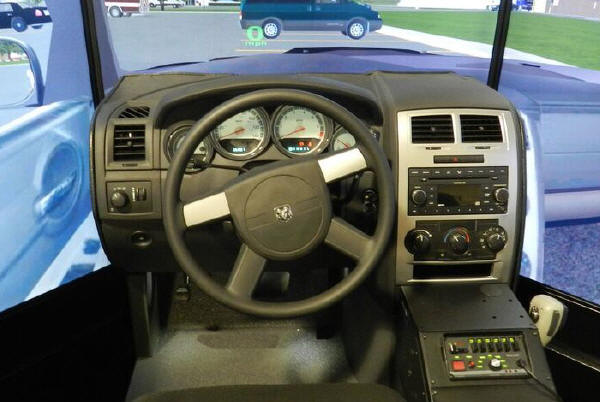 ---
Chevy Tahoe EMS Simulator
and
Spartan MetroStar Fire Simulator
Addison, MI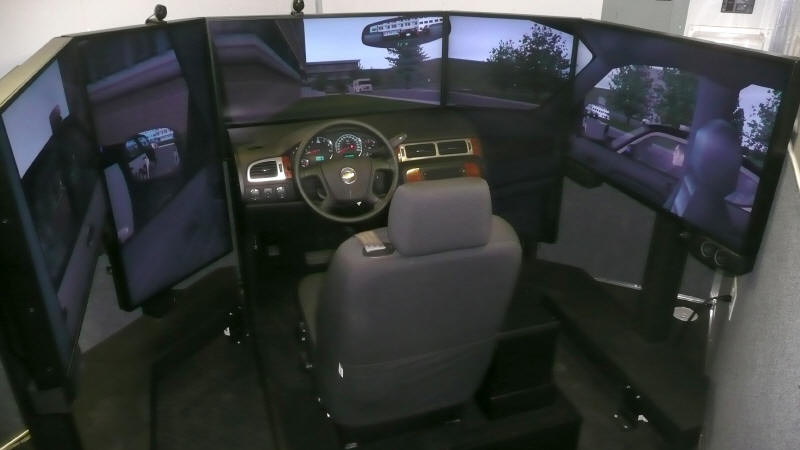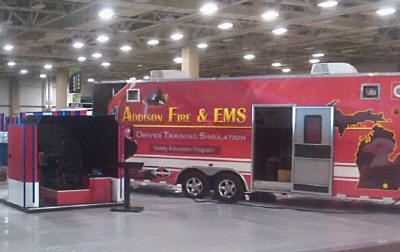 ---
International Durastar EMS Simulator
and
Spartan MetroStar Fire Simulator
Cherry Valley, IL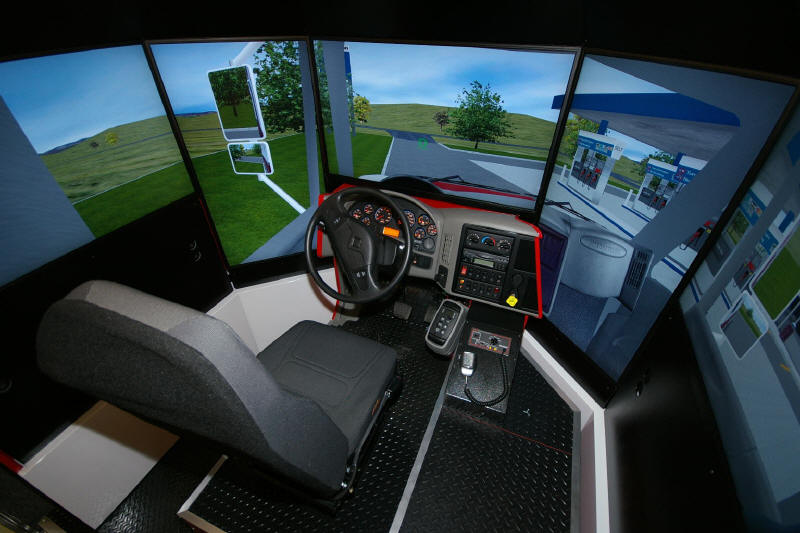 ---
Pierce Velocity 2-Seater Fire Simulator
Mesa, AZ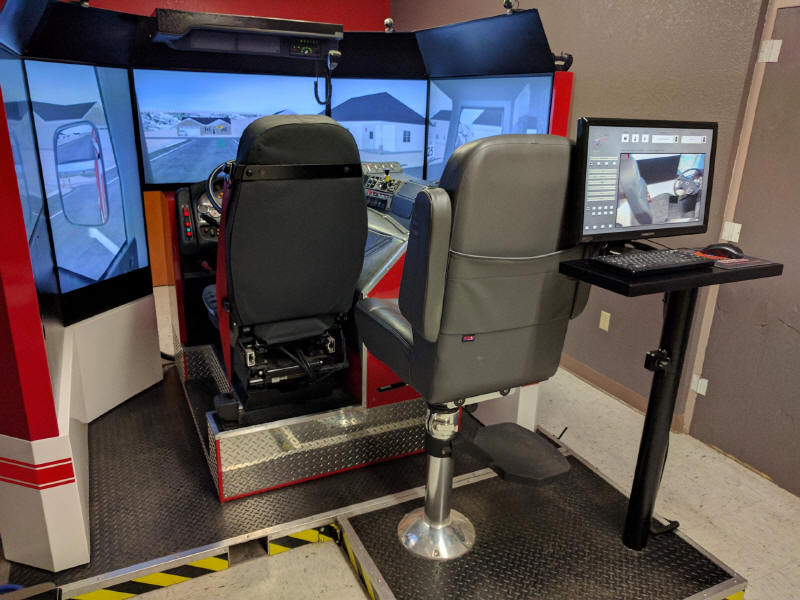 ---
Spartan MetroStar 2-Seater Fire Simulator
Casa Grande, AZ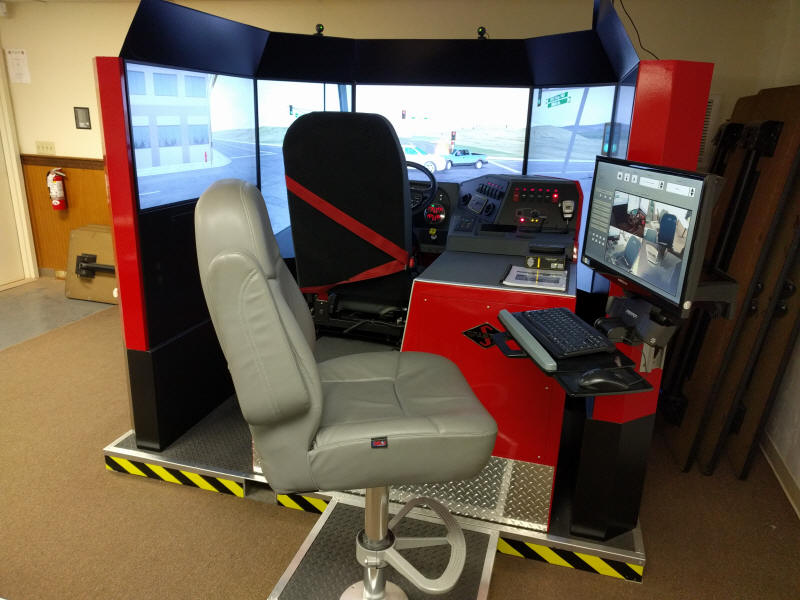 ---
Ford E-450 EMS Simulator
and
Spartan MetroStar Fire Simulator
and
Dodge Charger Police Simulator
Scottsdale, AZ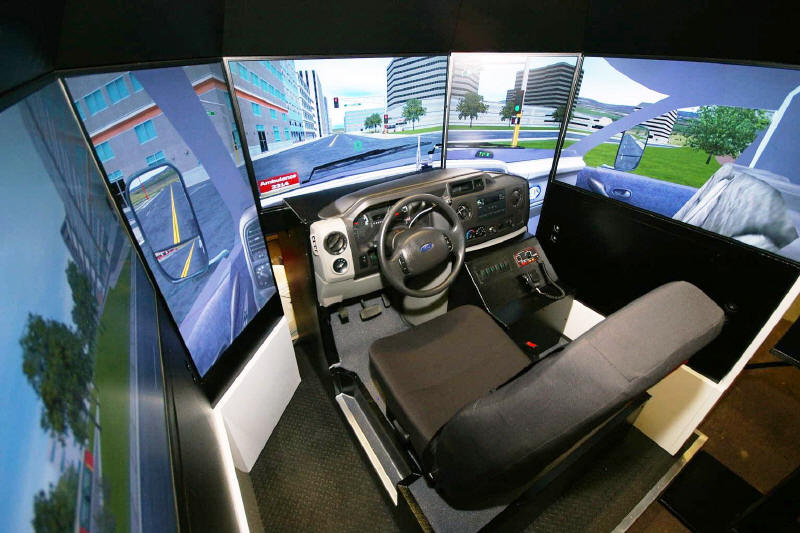 ---
Spartan MetroStar Fire Simulator
(Mobile Classroom Trailer)
Grand Rapids, MI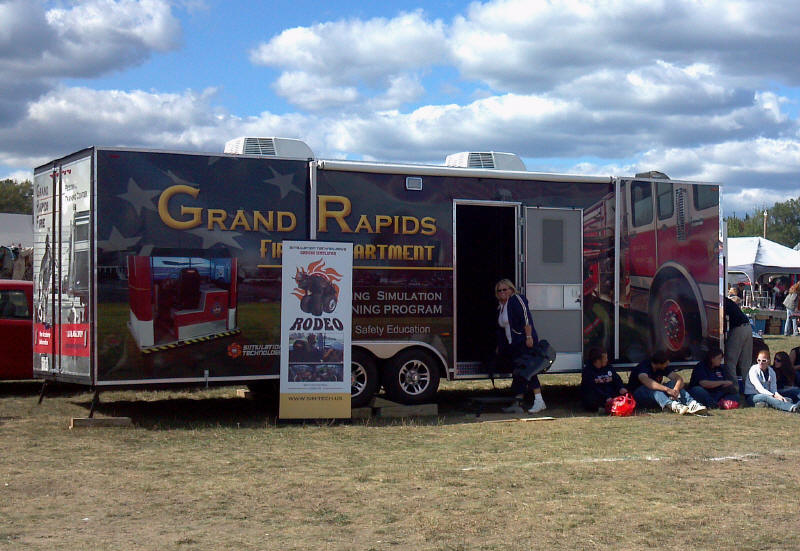 ---
Spartan Furion Fire/EMS Custom Vehicle
(used with a Spartan MetroStar Simulator)
West County, MO
---
GMC G-4500 EMS Simulator
and
Spartan Gladiator Fire/Tiller Simulator
Tacoma, WA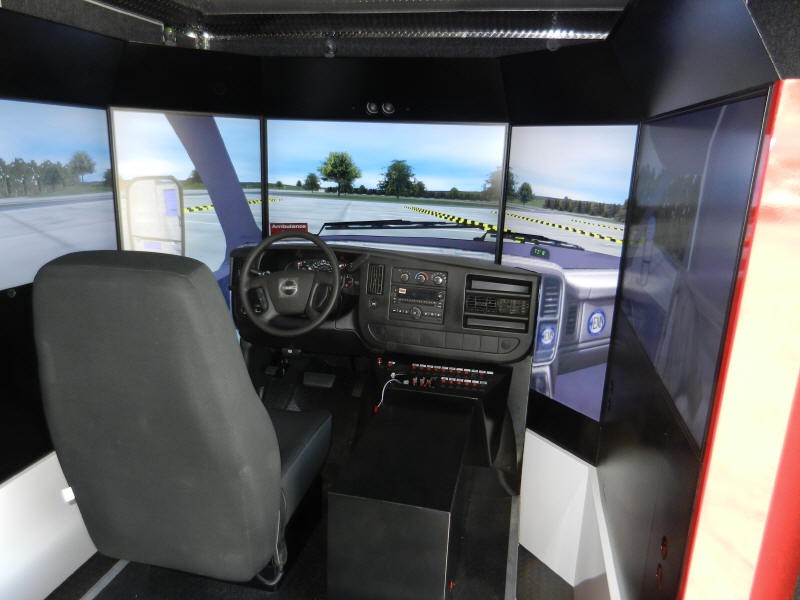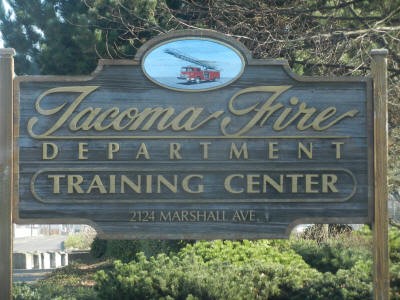 ---
Ford F-250SD EMS Simulator
and
Spartan MetroStar Fire Simulator
Alabama Fire College / Ft. Payne, AL
---
Teens & Trucks Simulators
Nashville, TN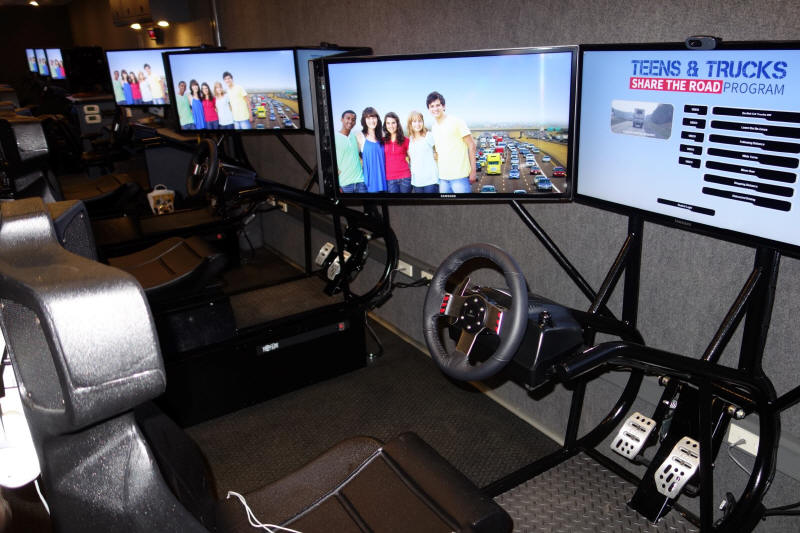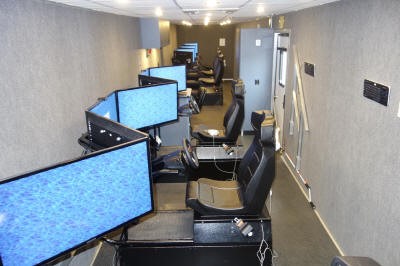 ---
Crown Vic Police Interceptor Simulator
Tennessee Highway Patrol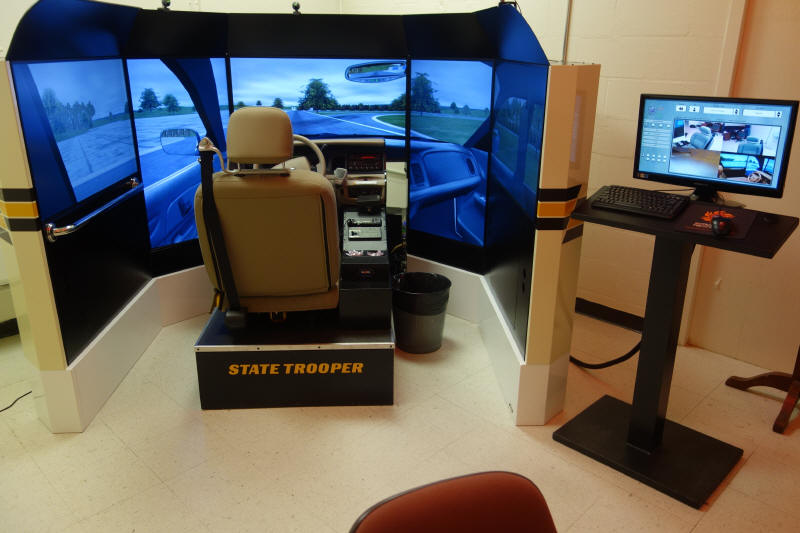 ---
International Durastar Fire/EMS Simulators
Nashville, TN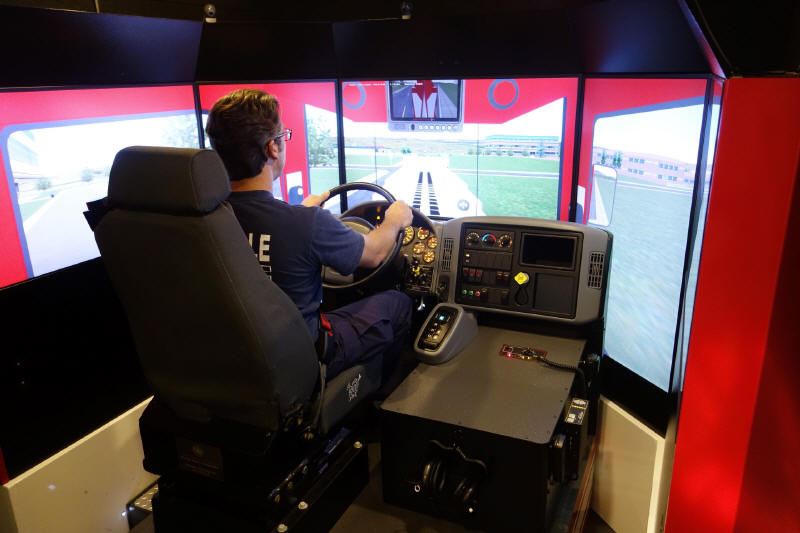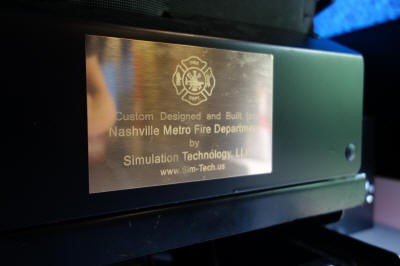 ---
Ford F-250SD EMS Simulator
and
Spartan MetroStar Fire Simulator
Birmingham, AL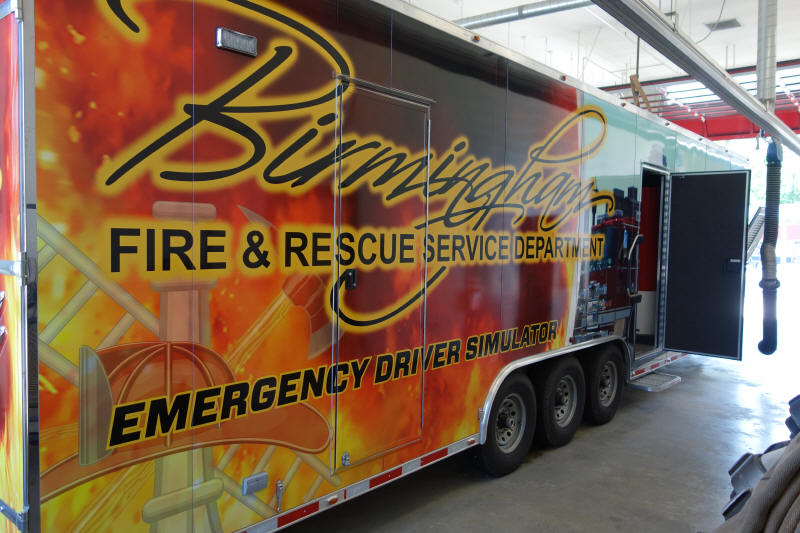 ---
Navistar CE Series School Bus Simulator
Memphis, TN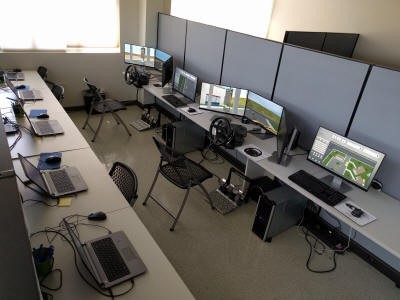 ---
Spartan MetroStar Fire Simulators
Colorado Dept. of Fire Prevention and Control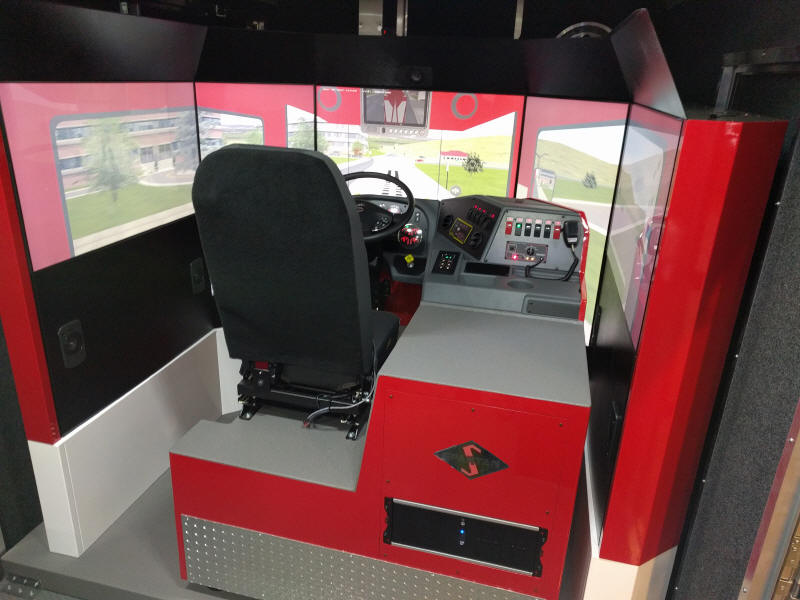 ---
Neo Series VR-Based Simulators
The next generation, in development: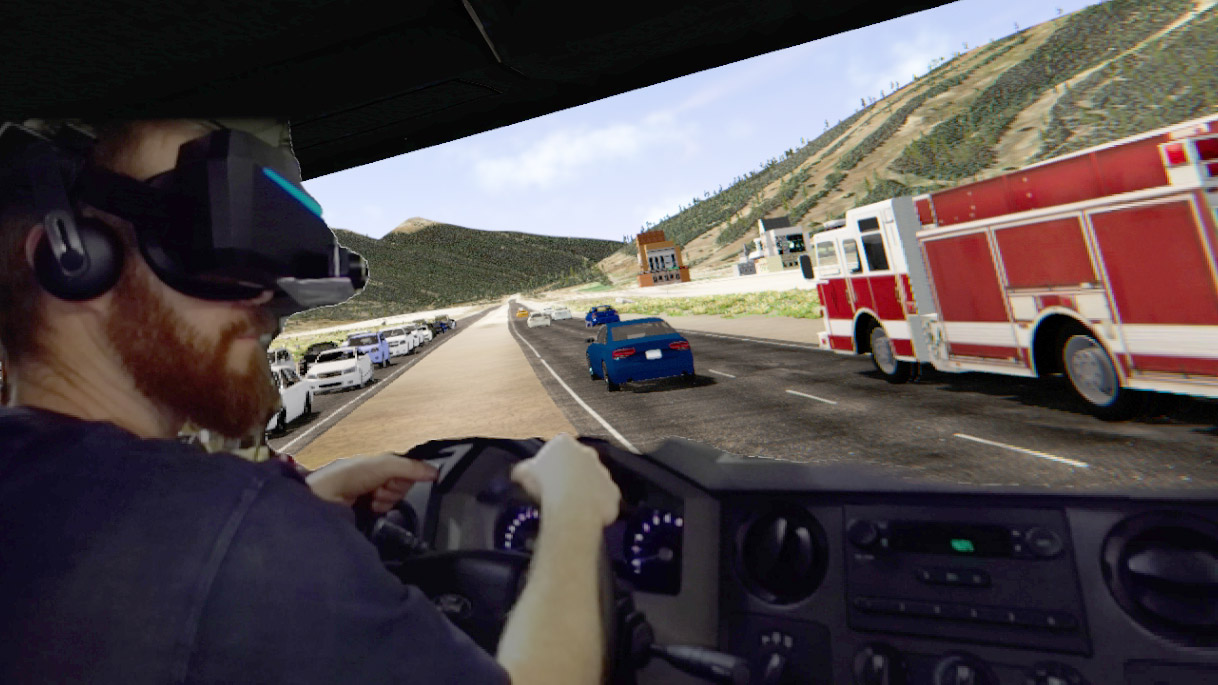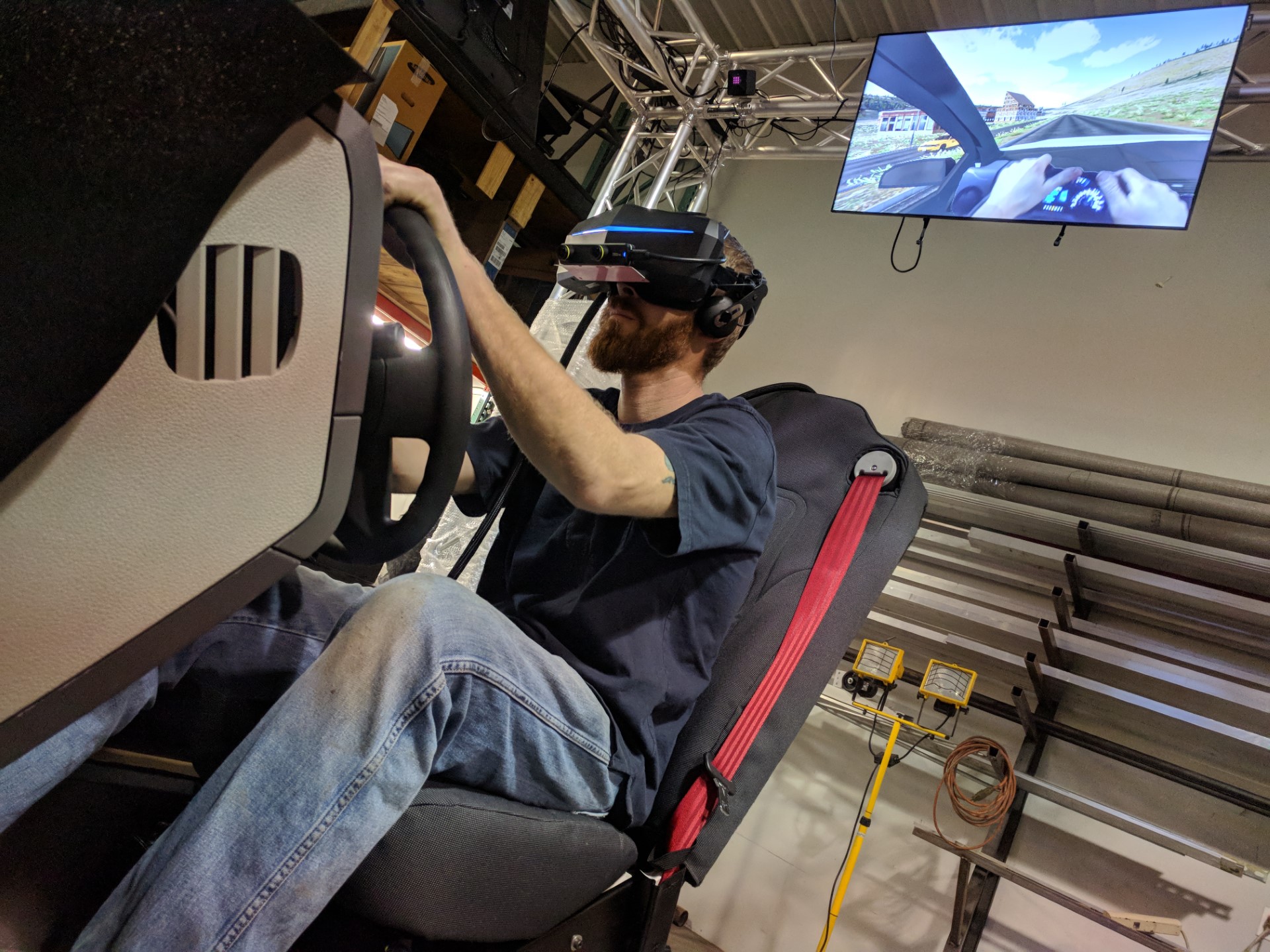 ---
Kenworth T-680 Semi Truck Simulator
---
Fire Ladder Truck Response in Rain:
---
Fire Brush Truck Offroad Response at Sunset:
---
Fire Pump Panel Simulator Prototype:
---
JLTV Prototype See-Thru VR Demonstration:
---
USAF Semi-Truck See-Thru VR Demonstration:
---
Full-Cab Freightliner Semi-Truck Simulator with Shift Pro Demonstration:
---
Full-Cab ProStar Semi-Truck Simulator with Dog as Copilot:
---
Trash Dumpster Truck Simulation Demonstration:
---
Bus Simulator Demonstration:
---
National Crane Simulator with 2-DOF Motion and See-Thru VR: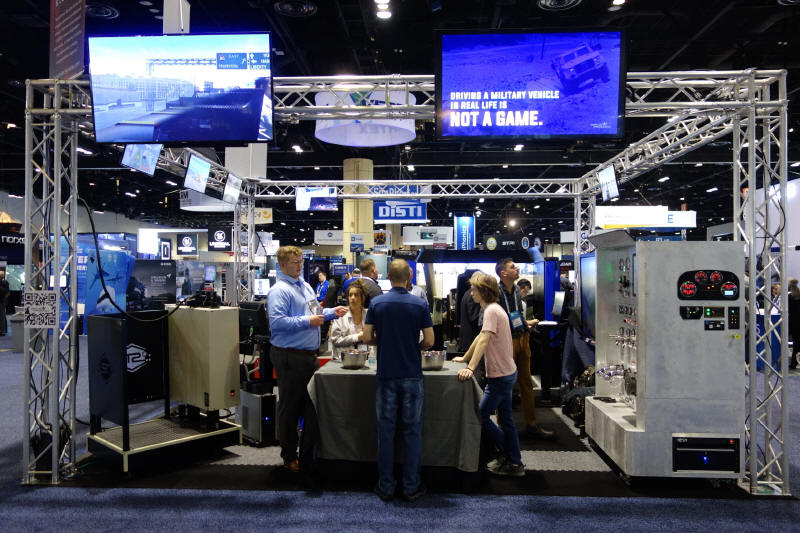 ---
Digital Vehicles Simulator Components
---
Cab-Specific Wiring Harnesses,
DVC Breakout Boards,
DVC8 / DVC7 Vehicle Control Interfaces:
DVI Simulation Computers:
Force-Feedback Steering System:
(BoneKrusher Power Amplifiers; Servo Motor/Encoder/Gearhead Assemblies)
Instrument Clusters:
(supported from TRAINER by hardwired mods, or reverse-engineered CAN commands)
---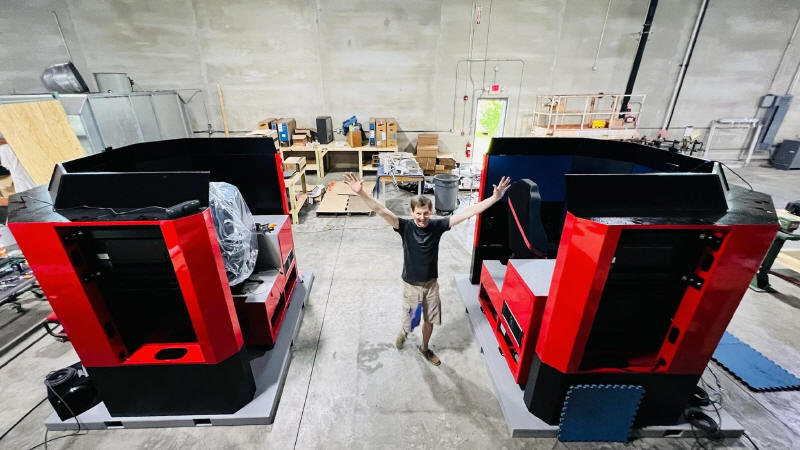 ---
SPECIAL THANKS FOR ALL THE HELP AND SUPPORT OVER THE YEARS

Debbie Smith, Ruth and Winston Kriger, Diek Wheeler, Masoom Khan, Mike Barborak, Miles McManus, Jim Parnell, Fred Neuenschwander, John Venthem, Gabrielle Ryan, Per Hanssen, Patrick Gilmore, Bob McAndrew, Marc Cresap, George More, Jorge More, James Brandt, Don Ginsel, Gina Becton, Clyde Lovelace, Dave Kohutek, Dan Gaas, Jim Mealy, Nathan Hohle, Steve Singer, Dave McClure, Greg Wright, Barry Simpson, Dennis Simanaitis, Tim Sullivan, Mark Paulo, John Drallos, Bob Jacobs, Peter Beale, Doc Frasier, Geoff Blackham, Ross Smith, Paul Miller, Don Batson, Christian Murray, Kenn Laurie, Jacques Bernier, Dan Schmick, Kyle Stevens, David Hooper, Filip Depreeuw, Tony Winter, Jack Luder, Gilbert Mengel, Bertrand Bois d'Enghien, Andre Ouimet, Paul Kingston, Andy Werner, Gary Wachter, Reg Welles, Fred Craft, Larry Selditz, Chris Jones, Greg Bookout, Enrique Mar, Enrique Allen Mar, Becky Hudson, John Kearney, Jim Voorhees, Nathan Stahlman, Phillip Kerman, Jason Emery, Ian Emery, Joseph Heard, Jim Anello, Chant Sines, Lee George, Todd Williams, Terry Cutler, Darren Basch, Dick Wheeler, John Busch, Drew Salter, Larry Coker
---